Are you searching for the perfect blend of luxurious urban living and serene surroundings? Look no further! Introducing Godrej Nirvaan, a stunning residential project that epitomises the true essence of contemporary city living. Nestled in the heart of Mumbai's bustling suburbs, this extraordinary development offers an unmatched combination of convenience, comfort, and captivating amenities.
In this blog post, we will explore the top reasons why Godrej Nirvaan Thane is the ultimate choice for those seeking an elevated urban lifestyle like no other. Prepare to be captivated by its charm and astounded by its endless possibilities!
Let us help you find your perfect property! Click below to schedule a consultation.
Contact Builder For Latest Offers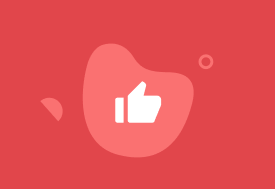 Thank You
Our Builder Representative Will Contact You Shortly
Back to Home
Top Reasons to Choose Godrej Nirvaan
1. Location Advantages of the Godrej Nirvaan Project
As one of the most desirable areas to live in Mumbai, Godrej Nirvaan offers a number of advantages to its residents.
Godrej Nirvaan Address:
Kalyan, Junction, off Mumbai – Nashik Expressway, Samata Nagar, Sainath Nagar, Themghar, Thane, Maharashtra 421308
Here are some of the top reasons to choose Godrej Nirvaan Kalyan for an urban lifestyle:
1. Proximity to major work and leisure destinations: Godrej Nirvaan is close to major work and leisure destinations, making it an ideal choice for those who want to live an urban lifestyle.
2. Connectivity: The property is well-connected to all parts of the city via multiple modes of transport, making commuting a breeze.
3. World-class amenities: Residents of Godrej Nirvaan Thane can enjoy access to world-class amenities such as a swimming pool, gymnasium, and more.
4. Security: The property comes with 24/7 security, ensuring residents can live safely and without any worries.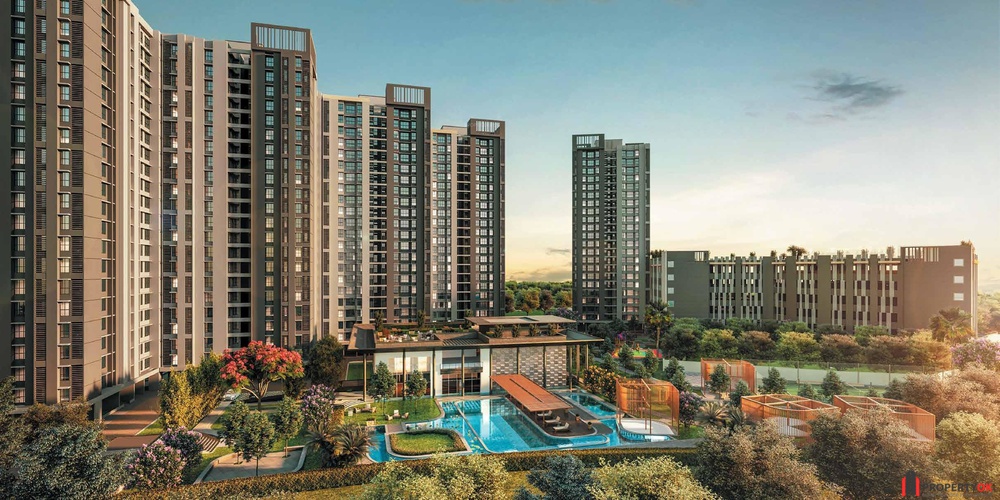 5. Surrounding greens: The property offers a tranquil environment, with its lush green surroundings making it a perfect destination to relax and unwind.
6. Convenient shopping and dining options: With plenty of stores, cafes, and restaurants nearby, Godrej Nirvaan Thane ensures you never have to go out of your way for necessary items or delicious meals.
7. Upcoming Metro: With the upcoming metro planned to pass through the area, connectivity will only get better, and you can easily access areas across Mumbai without much hassle.
These are just some of the advantages that these flats in Kalyan West provide to its residents. With so much to offer, the property is undoubtedly one of the most sought-after residential developments in Thane.
Read this blog to learn about why Godrej Emerald Thane is the ideal investment option in Mumbai real estate market:

WHY GODREJ EMERALD THANE IS THE IDEAL INVESTMENT OPTION IN MUMBAI REAL ESTATE MARKET
2. Amenities at Godrej Nirvaan Thane
Residents of Godrej Nirvaan will have access to a number of amenities, including:
-A modern clubhouse with a gym, swimming pool, and indoor games
-An outdoor children's play area
-A landscaped garden
-A multipurpose hall for events and functions
-24/7 security and surveillance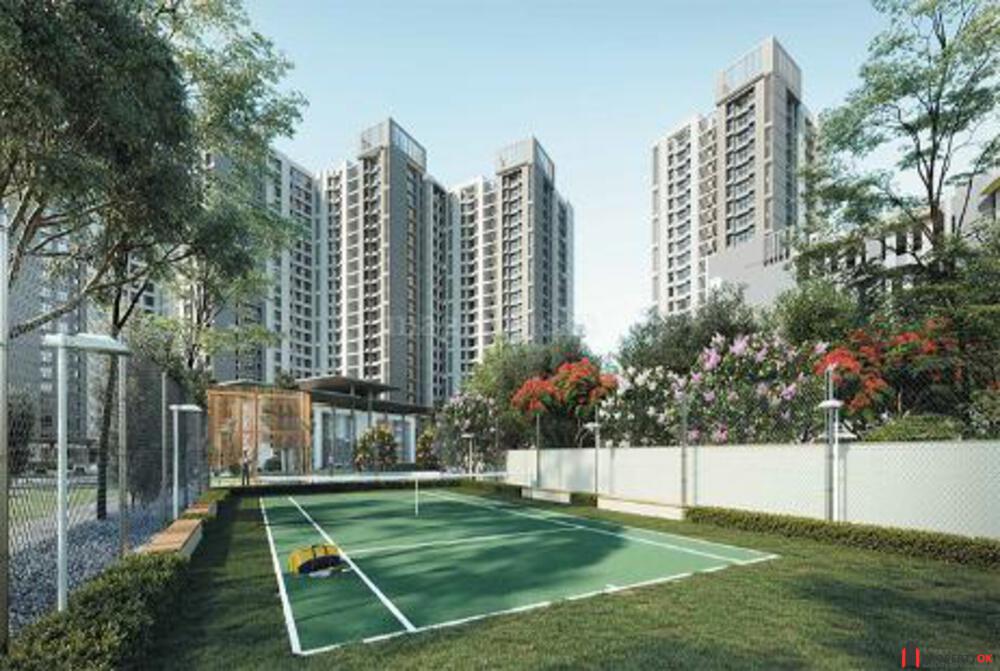 -A convenience store
-Ample parking space
-Provision for broadband, television and telephone services
-Jogging track
-Power backup for common areas
-Maintenance staff
3. Modern and Spacious Interiors of the Property
If you are looking for a luxurious and spacious apartment in the heart of the city, then Godrej Nirvaan Thane is the perfect choice for you. The property boasts modern and stylish interiors that will impress your guests. With its convenient location, you can enjoy all the benefits of an urban lifestyle while living in a peaceful and serene environment.
The property features beautiful, well-crafted furniture and fittings that add to the grandeur of the space. The rooms are spacious and air-conditioned, providing ultimate comfort and pleasure. Every room has essential amenities such as television and Wi-Fi to ensure your stay is pleasurable and stress-free.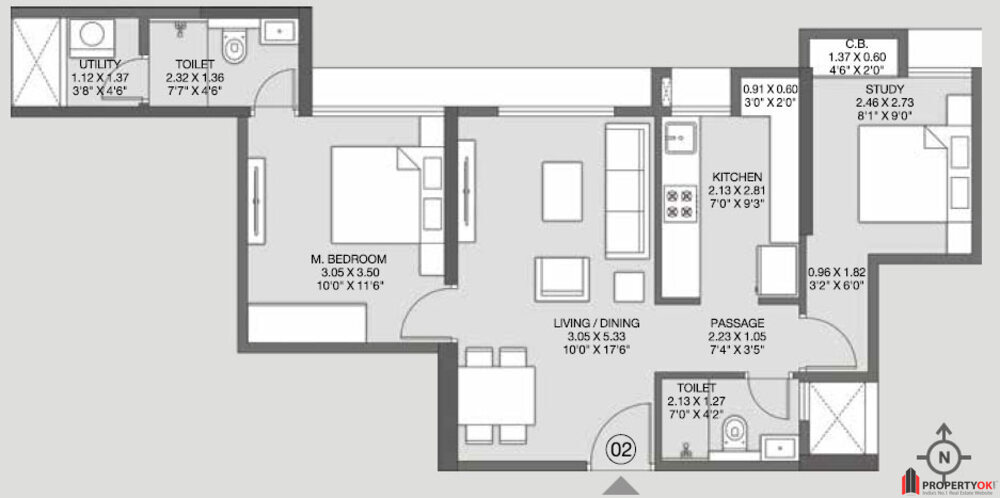 Godrej Nirvaan Floor Plan
The living rooms are open-planned, allowing natural light to flow through for you to fully appreciate the beauty of each room. The modern kitchen has high-end appliances and cabinets with all the necessary items.
Godrej Nirvaan Kalyan provides its residents with various recreational options like a swimming pool, gymnasium, spa, steam room and much more for you to make the most out of your stay here. With all these facilities on offer, you can be sure that this property will provide you with a memorable experience every time you return home!
4. Convenience Options Available at Godrej Nirvaan Kalyan
The reasons to choose Godrej Nirvaan for an urban lifestyle are many, but one of the key reasons is the convenience options available. From transportation to shopping and dining, these flats in Kalyan West have it all!
For transportation, residents can take advantage of the on-site parking garage or the shuttle service to and from the nearby subway station. For shopping and dining, there are plenty of options within walking distance of the Godrej Nirvaan project. There is a grocery store on-site, as well as several restaurants and cafes. And for those who want to explore the city, Godrej Nirvaan is just a short subway ride away from all the major attractions.
For entertainment, the complex offers a fitness centre, swimming pool, and other indoor sports options. There are also several parks within easy walking distance. And for those times when you want to escape from the hustle and bustle of the city, Godrej Nirvaan Thane is conveniently situated so that residents can easily access nature reserves nearby.
Find out why Lifestyle City Kalyan Advantage A can be your perfect dream home by reading this blog:

WHY LIFESTYLE CITY KALYAN ADVANTAGE A IS YOUR PERFECT DREAM HOME
5. World Class Recreational Facilities Offered by Godrej Nirvaan
Godrej Nirvaan Kalyan is home to some of the best recreational facilities that money can buy. The property offers a world-class gymnasium, an indoor swimming pool, a spa, a salon, and a café. In addition, Godrej Nirvaan Thane also has a business centre and a conference room for business meetings and events. The recreational facilities at Godrej Nirvaan are second to none and provide residents with the perfect way to relax and unwind after a long day.
Apart from the recreational facilities, these flats in Kalyan West also have some amazing outdoor amenities. These include a jogging track, cycling track, basketball court, and a children's play area. The property is also home to a lush green park with foliage landscaping along the property's periphery. There are also a number of sprawling gardens and terraces for residents to relax in. All these incredible features make Godrej Nirvaan Kalyan one of the best residential projects in Thane.
Pricing of the Property
Godrej Nirvaan Thane is a luxurious residential complex in the prime location of Kalyan West, Thane. The project offers 1 BHK and 2 BHK apartments at an attractive price. The prices are as follows:
1 BHK: Rs. 57 lakhs to Rs. 70 lakhs
2 BHK: Rs. 83 lakhs to Rs. 98 lakhs
The project is developed by Godrej Properties, one of the most reputed developers in India. The company has priced the apartments considering the needs of modern families who seek a luxurious lifestyle without compromising on quality or comfort.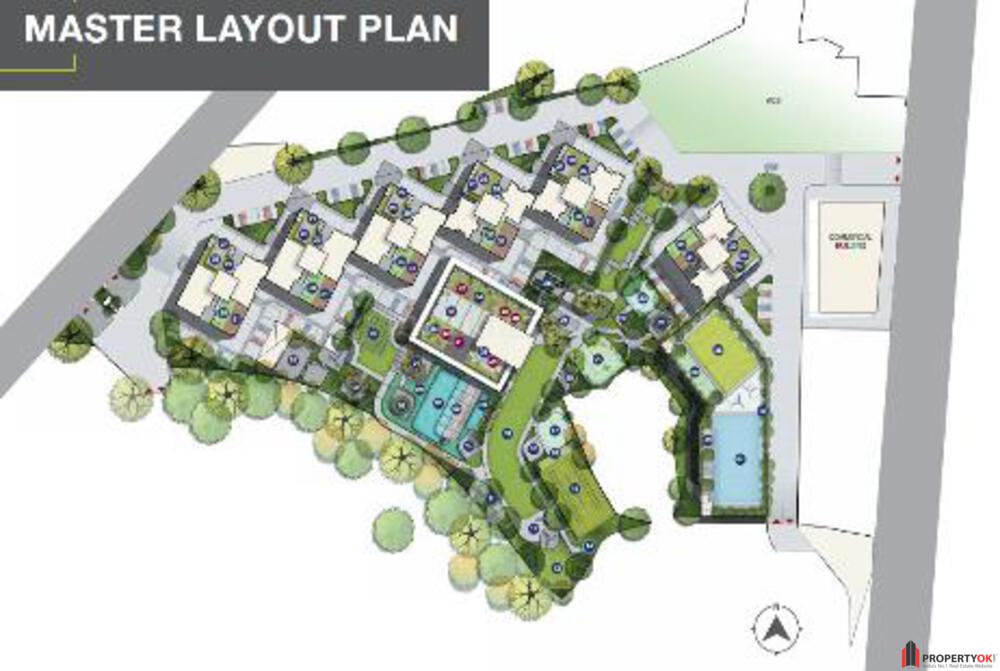 Godrej Nirvaan Master Layout Plan
In addition to the base prices mentioned above, the buyers may have to pay additional charges such as GST, stamp duty, registration fees and other applicable taxes. The exact cost of the property will depend on various external factors, such as the efficiency of legal formalities and the availability of appropriate documents.
To ensure a hassle-free experience for buyers, Godrej Properties is offering easy payment plans and attractive home loan options. The company also has in-house financial advisors who can help buyers find the best financing solutions for their needs.
Discover what maked Runwal Dahlia in Thane West so irresistible by reading the blog below:

CATCH THE WAVE OF WONDER: WHAT MAKES RUNWAL DAHLIA IN THANE WEST SO IRRESISTIBLE?
Wrap-up
Godrej Nirvaan is an amazing place to call home, and it has all the amenities anyone could need. From stylish homes to lush landscapes, the Godrej Nirvaan project immerses you in grandeur and urban luxuries. Not only that, but its prime location offers convenient access to some of the city's best attractions, shopping hubs, educational institutions and must-see landmarks.
With such unbeatable features and amenities on offer, choosing Godrej Nirvaan Kalyan would make living an urban lifestyle so much easier and more enjoyable if you are planning to buy flat in Thane!
Furthermore, the Godrej Nirvaan development team has put a lot of effort into creating an energy-efficient and sustainable living environment. With top-notch materials used for construction, modern technology and other innovative features, Godrej Nirvaan Thane offers one of the most secure and eco-friendly residential complexes in the city.
Equipped with advanced security systems to constantly monitor activities within its premises, this residential complex ensures peace of mind as well as privacy for residents. So, if you want to make your dream of living an urban lifestyle come true, look no further than Godrej Nirvaan Kalyan!
Frequently Asked Questions
1. How does Godrej Nirvaan cater to the needs and preferences of real estate investors looking for a profitable investment opportunity?
Godrej Nirvaan Kalyan is an excellent opportunity for real estate investors looking for a profitable investment opportunity. The development offers spacious and well-designed apartments that deliver value for money and come with all the modern features that today's real estate investors look for in their investments.
Moreover, its strategic location makes it an attractive option, given the area's potential for growth and appreciation over time. In addition, the project also offers a range of lifestyle amenities such as a swimming pool, gymnasium, clubhouse, children's play zone and more at the best price points, making it an ideal investment choice.
2. What kind of payment plans are available for potential buyers?
Godrej Nirvaan offers flexible payment plans that accommodate various financial scenarios. These include down payment options, instalment plans, and even tie-ups with leading financial institutions for home loans.
3. What legal and documentation support is provided for property transactions at Godrej Nirvaan?
Godrej Nirvaan offers comprehensive legal and documentation support for property transactions. A dedicated team ensures the buying process is transparent, smooth, and compliant with all legal requirements.