Are you on the hunt for the perfect home or investment opportunity in Thane but feeling overwhelmed by the sheer number of options available? Look no further! We've compiled a list of the top 10 residential projects in Thane, each offering an exceptional living experience that's sure to exceed your expectations. From luxurious amenities and breathtaking designs to convenient locations and unparalleled lifestyles, these projects have it all.
So, if you're ready to discover the best of the best, read on as we unveil Thane's top 10 residential projects and help you find your dream home.
Experience exceptional service! Click below to schedule a consultation.
Contact Builder For Latest Offers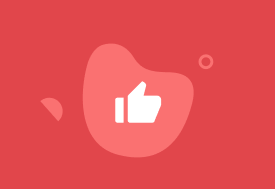 Thank You
Our Builder Representative Will Contact You Shortly
Back to Home
Why You Should Consider Moving to Thane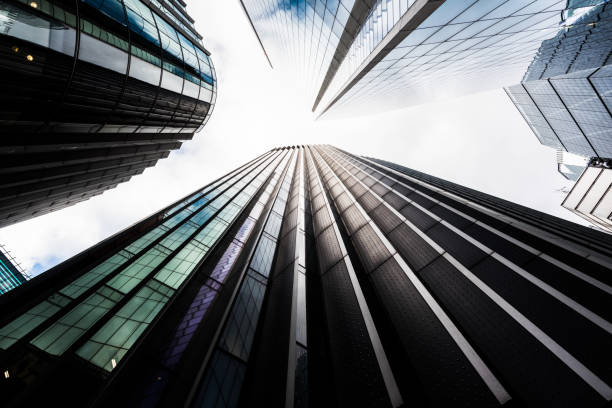 Thane, also known as the city of lakes, is a prime location situated on the outskirts of Mumbai. The city has seen significant growth in recent years and has emerged as one of the most sought-after residential areas due to its excellent connectivity and infrastructure.

Firstly, Thane boasts an excellent transportation network that connects it to all major cities around Mumbai. This includes local trains, buses, taxis, and autos, making commuting easy for residents. Moreover, with the upcoming metro line linking Thane to other parts of Mumbai, accessibility is set to improve even further.

Secondly, Thane offers a vibrant lifestyle with access to several malls like Viviana Mall and R-Mall for shopping enthusiasts. There are also numerous restaurants offering cuisines from around the world alongside top-notch educational institutions.

Thirdly, Thane is surrounded by picturesque hills on one side and serene lakes on another, providing an amazing environment for nature lovers who can enjoy long walks or indulge in outdoor activities like trekking & boating.

Lastly, Thane's real estate market caters to well-designed houses at affordable prices compared to Mumbai, making it a perfect place for investment.

The high demand shows no signs of slowing down anytime soon, so investing now could be profitable in the future!
5 Reasons to Invest in Property in Thane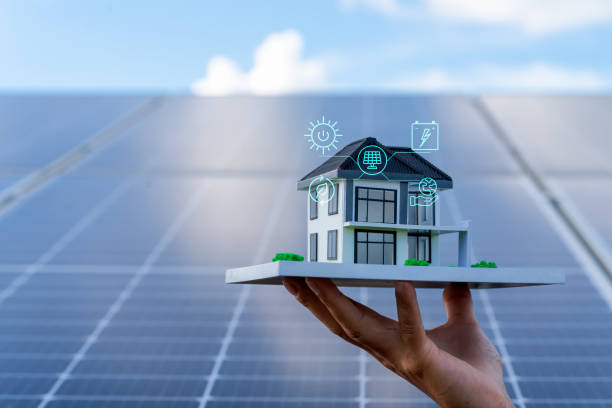 Thane is undoubtedly one of the best places to live in Mumbai, and investing in a residential property here can be a wise decision for several reasons. With its excellent infrastructure, connectivity, and lifestyle options, Thane has emerged as a popular choice among homebuyers.

In this blog post, we have listed the top 10 residential projects in Thane that offer premium amenities and an unmatched living experience. These projects are designed to cater to every need of modern-day residents and provide them with convenience, comfort, luxury, and security.

Investing in these properties not only ensures luxurious living but also offers high appreciation value over time. So if you're looking forward to buying your dream home or want to make an investment that yields profitable returns soon enough, Thane should definitely be on your radar.

With all things considered, such as great connectivity via well-connected highways & metro lines; ample greenery amidst bustling city life; infrastructural growth that would lead the way for further development opportunities – it's clear why investing in property within Thane is not just about getting a good deal but securing yourself financially too!
Read this blog for insights and information about the top luxurious flats in Thane West:

5 LUXURIOUS FLATS IN THANE WEST THAT OFFER UNMATCHED COMFORT AND CONVENIENCE
Top 10 Residential Projects in Thane
1. Ashar Metro Towers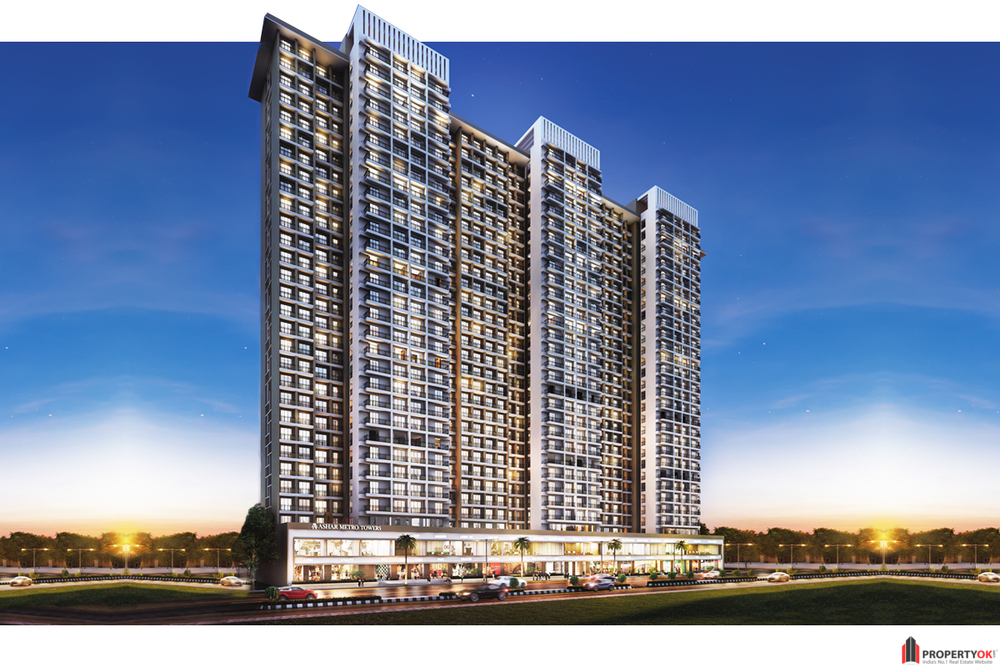 Ashar Metro Towers is one of the best residential projects in Thane. Constructed by Shree Saibaba Grihanirmiti Pvt. Ltd., this spectacular project offers 1 BHK and 2 BHK flats in Thane West at admirable prices. The apartments offer plenty of amenities, and the prime location opens up the vistas for comfortable living. The flats have well-equipped waste management and disposal facilities. The reflexology park, sun deck, and party lawn are centres for recharging the body and soul after a hectic week of hard work.
The paved compound and internal roads are set keeping in mind the needs of the residents for revitalizing their life. Added advantages include closed and open car parking facilities. Special focus is given to fire safety requirements, and 24-hour water supply has been assured by the developers.
These flats are situated close to banks, schools, and eminent hospitals, as well as shopping malls and movie theatres. All these features make this project a special one worth adding to the list while planning to buy flat in Thane.
2. Rustomjee Azziano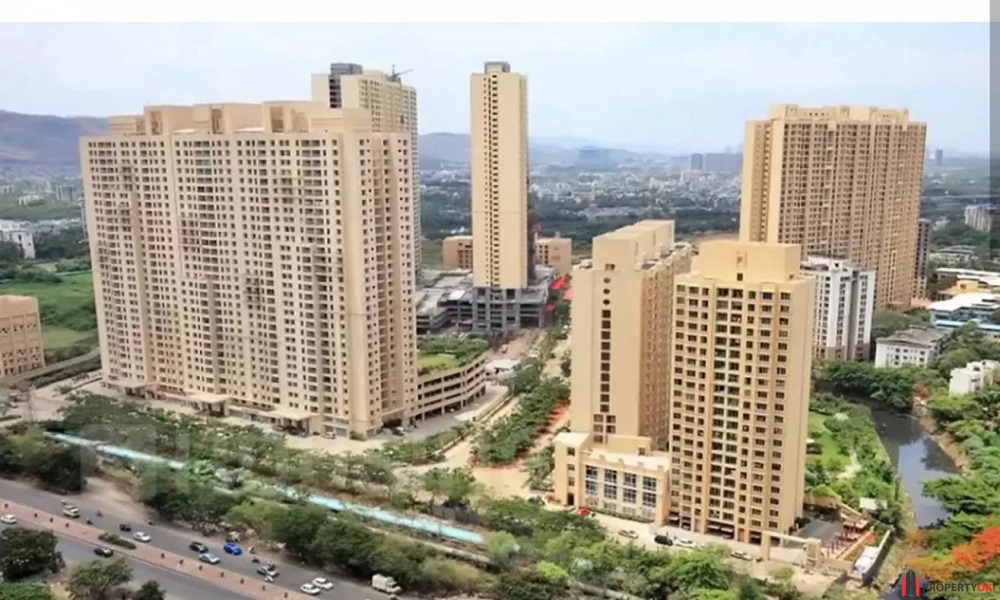 These incredible residential flats in Thane have opulent 2 BHK configurations with spellbinding amenities. Rustomjee Azziano is a captivating project with a unique air-conditioned cafeteria for hosting grand get-together functions. The sports facilities offered by the project are worth mentioning. There is a modern billiards room and golf practice area, along with a pleasant library and reading room. The high-class conference room and the contemporary waiting lounge are an astounding wonder of the project. Separate provisions for internal roads and footpaths are also provided by the project.
Besides these facilities, rainwater harvesting and water conservation features of the project are the other major highlights. The proximity of the apartments to railway stations and bus stops makes commuting easy for the residents.
3. Sheth Avalon-Phase 1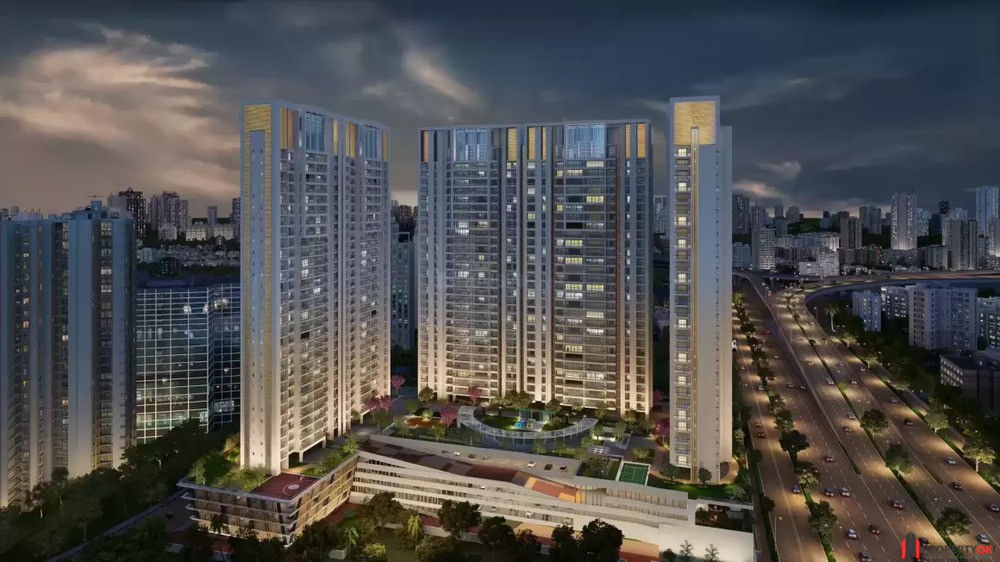 Sheth Avalon is also one of the best among the residential projects in Thane. These luxury apartments consist of flats with 2 BHK, 2.5 BHK, 3 BHK, and 4 BHK room configurations. The project encompasses flats filled with ultra-modern amenities and provisions. The lucky residents of Sheth Avalon will have access to a serene swimming pool, squash, badminton, and basketball courts, and a colourful play area for children.
Another unique feature of these residential flats is the library facility. There is also a spacious banquet hall, a convenient business center, and well-maintained staff quarters. A sewage treatment facility is an added advantage. The apartments shower a blissful view of the Yeoor Hills, and the natural setting blends well with the project's architecture quite beautifully. This is a must-consider project while planning to buy flat in Thane.
4. Highland Haven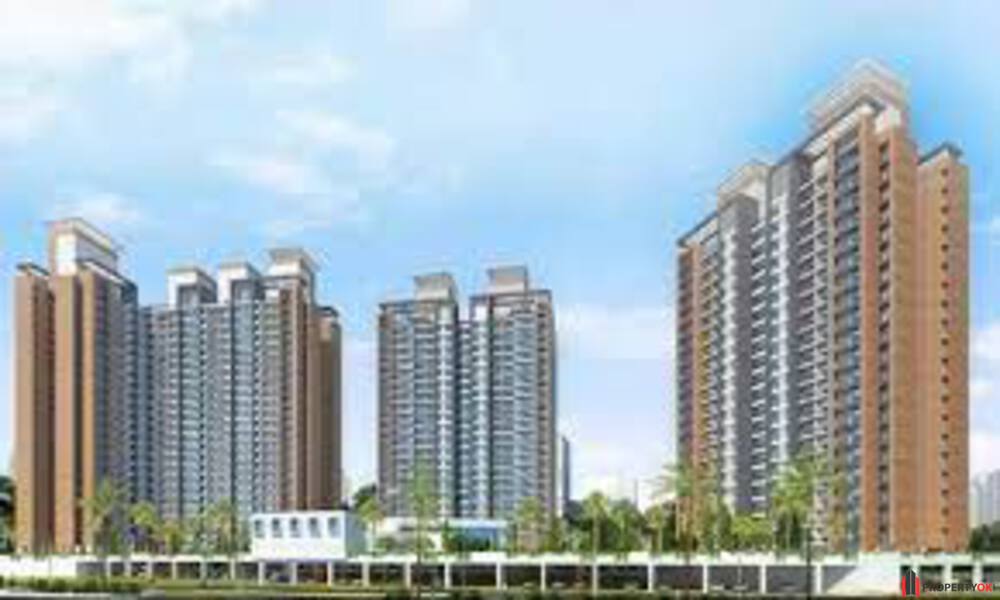 This impressive project by Siddhi Krish Developers presents 2 BHK and 3 BHK luxury flats in Majiwada, Thane- a sought-after location. Located on 12 acres of land, Highland Haven is a miracle in Majiwada with much to offer. The residential project has a grand entrance lobby, and convenience is redefined by introducing two high-speed elevators in every block. The spacious flats have a modern gymnasium, clubhouse, and intercom facilities.
The location is close to the Kasara Railway Station, and the Bank of Baroda is just a few kilometres away. The dwellers can enjoy the weekends at the Cinema Star, and for nature lovers, the Ovalekar Wadi Butterfly Garden is just 2 km away. The M.K. Medical Services are nearby, where you can address any health emergencies.
5. Harmony Signature Towers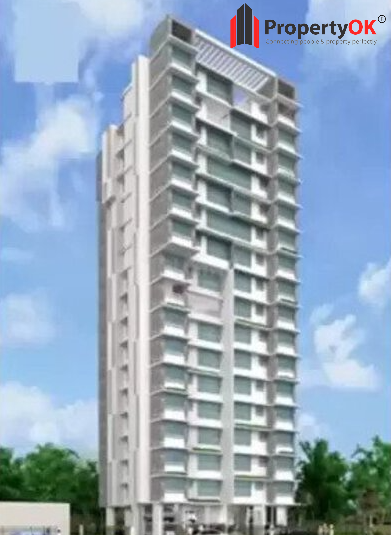 These mesmerising residential flats in Thane have 2 BHK, 3 BHK, and 4 BHK configurations with a wide range of amenities. Harmony Signature Towers incorporates high-class apartments with stylish interiors. The project bears proximity to the Kasara Railway Station and the Bank of Maharashtra. The Shiv Drusti Eye and Dental Hospital are just a few metres away from this residential project.
Explore more information regarding ready to move flats in Thane by reading this blog:

SAY GOODBYE TO DELAYS: EXPLORE READY TO MOVE FLATS IN THANE
6. Courtyard Ivy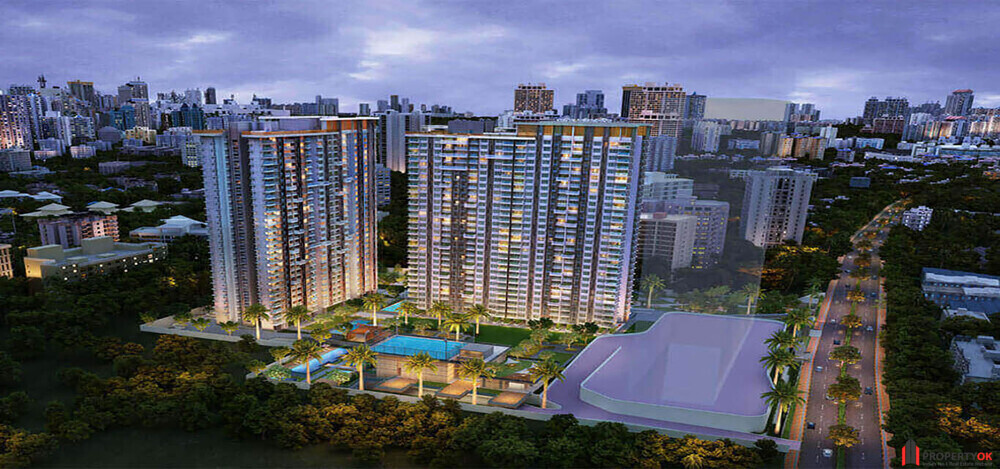 Courtyard Ivy project by Courtyard Real Estate Pvt. Ltd. has well-ventilated 2 BHK and 3 BHK flats in Thane for sale. The apartments open up to breathtaking views of greenery and are exceptionally planned to include a plethora of amenities.
The proximity of this project to major occupational centres like the Ashar IT Park, Odyssey IT Park, and the G Corp Business Park makes it stand out among the top 10 residential projects in Thane. Reputed educational institutions like the Vasant Vihar High School & Junior College, the CP Goenka International School, and the Lodha World School further enhance the value of this project.
7. Q Residences R1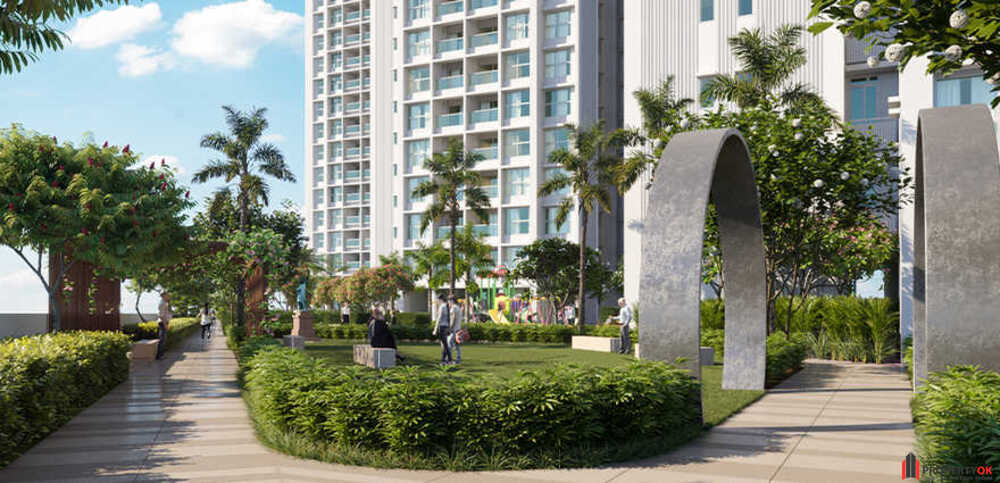 Q Residences R1 is a top residential project in Thane by Aurum Platz IT Pvt. Ltd. These flats in Thane have beautifully designed 1 BHK and 2 BHK rooms. The project has several luxury amenities like a swimming pool, spa, sauna, and steam room, neatly planned waste disposal facilities, rainwater harvesting, and water conservation facilities, and much more.
These flats have the advantage of being close to the Ghansoli Railway Station, the Ghansoli Central Park, and the Balaji Movieplex.
8. Immensa A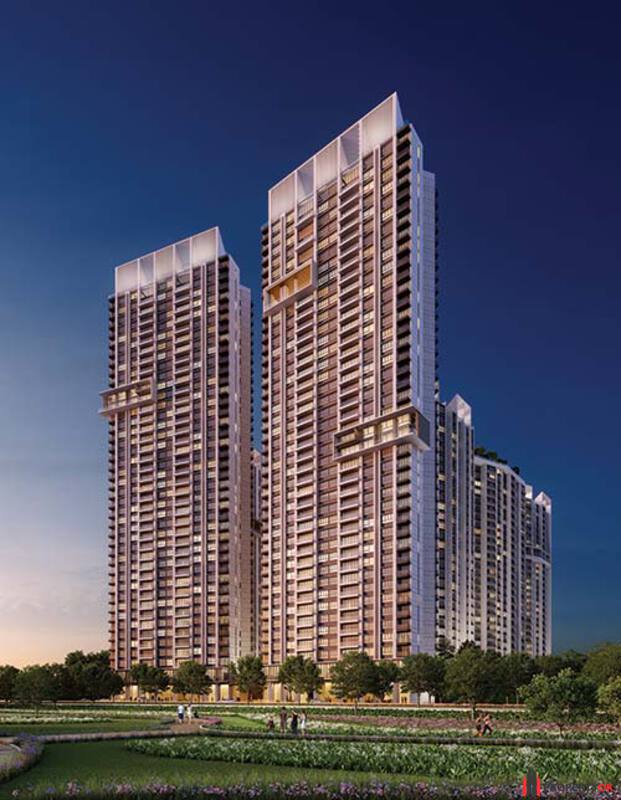 Immensa A is a high-class luxury flat with apartments belonging to 1 BHK, 2 BHK, 3 BHK, and 4 BHK configurations. This residential project in Thane has superior amenities and is located in a natural landscape. The project is about a 25 to 30-minute drive away from the Western Suburbs and 10 minutes from the Thane Station.
Despite having an earthquake-resistant structure, the project also incorporates several safety and security features. Reserved parking facilities are also available. The assurance of 24-hour water supply is worth mentioning. These flats in Thane are also close to prominent locations like Andheri, Vashi, and Powai. The presence of several key social infrastructures makes this project a highly demanded one for those looking to buy flat in Thane.
9. Starliving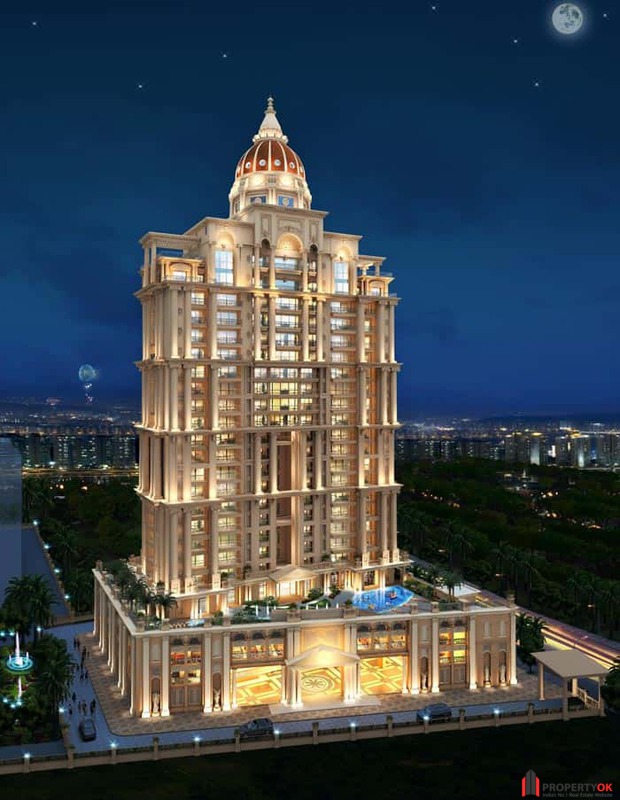 The thoughtfully constructed project Starliving offers 1 BHK, 2 BHK, and 3 BHK apartments focusing on enhancing luxurious living. The project opens up the opportunity to wake up to the warm beauty of the Yeoor Hills. Located in a thriving neighbourhood, these flats for sale in Thane have everything from high-quality amenities to desirable location advantages.
The presence of important job hubs combined with the closeness of key educational institutions, entertainment zones, and hospitals adds to the magnificence of this architectural wonder.
10. The White Villas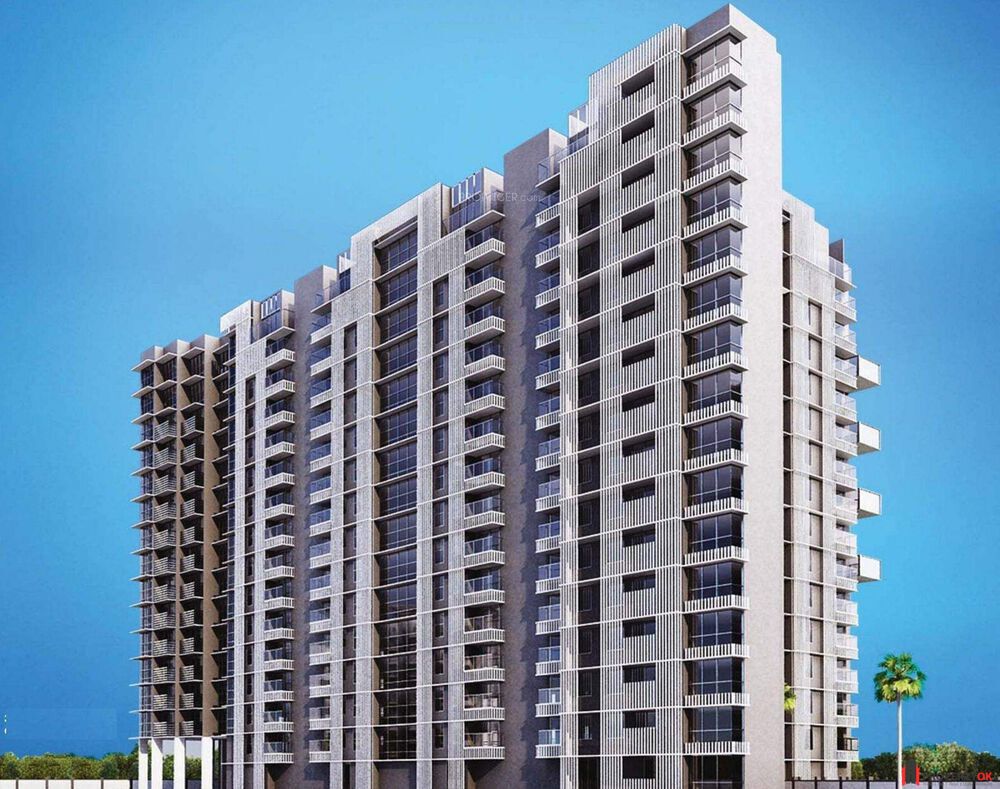 The White Villas by St. Angelos VNCT Ventures Pvt. Ltd. has premium 3 BHK and 5 BHK apartments in Thane West. The lavish apartments the project offers have ultra-luxury amenities, including a clubhouse and banquet hall.
The apartments have spacious interiors and beautiful outdoor spaces. It also ensures 24-hour water supply and power backup. This gated residential project in Thane has remarkable sports facilities, a modern gymnasium, guest parking facilities, and an elegant swimming pool.
Learn about low budget flats in Thane by reading the blog below:

SMART SAVING, STYLISH LIVING: LOW BUDGET FLATS IN THANE YOU'LL LOVE
Summing Up
We hope this guide has helped you find the perfect residential project. Whether you're a first-time homebuyer, a seasoned investor, or simply looking for a change of scenery, these top 10 residential projects in Thane offer the best of the best when considering factors like location, amenities, and investment potential.
Don't forget to visit our website to learn more about each of these projects and to schedule a site visit. Our sales team is always ready to answer your questions and help you find your dream home in Thane.
Make your perfect property dreams a reality!
Frequently Asked Questions:
1. Which areas of Thane are ideal for real estate investment and why?
The residential projects in Thane offer a great investment opportunity for many kinds of buyers. Pokhran Road, Ghodbunder Road, and Kavesar are very popular in real estate investment due to their value appreciation in the last few years. Many of these residential projects provide unique facilities that add to the investor's return on investment.
Some other areas also have potential, like Kalwa, Mumbra, and Kalher, which are good options worth considering. In addition, real estate investments in Thane also offer good returns because of the developing infrastructure and job opportunities in the city.
2. What are some key factors to consider when choosing a residential project in Thane?
When choosing a residential project in Thane, some key factors to consider include location, amenities, and security. Location is important because it will determine how convenient it is to access amenities and services outside the complex. Amenities are important for promoting a healthy lifestyle, such as pools, gyms, common areas, and playgrounds. Security is also an important factor to consider when deciding on a residential project, as you want to ensure the complex has features such as 24-hour guards and CCTV cameras.
Additionally, it would be beneficial to look into whether or not there are any additional special features offered with certain projects that may be beneficial to you in terms of lifestyle options or financial benefits.
3. How does Thane compare to other popular residential areas in Mumbai in terms of affordability and quality of living?
Thane is affordable compared to popular residential areas such as Byculla, Bandra, and Worli. Not only is there more availability of units, but prices are also much lower than in other parts of Mumbai, making it a great option for middle-class and real estate investors alike. In terms of quality of living, Thane is often known for having green outdoor spaces and malls nearby – making it the perfect destination for home buyers and entrepreneurs looking for a better quality of life.