In the bustling heart of Andheri West, a masterpiece of architectural magnificence stands tall – Runwal Elegante. Developed by the renowned Runwal Developers, this project redefines luxury living. Runwal Elegante is more than just a residential complex; it's an exquisite lifestyle destination combining elegance and comfort seamlessly. With its three towering structures housing various meticulously designed apartments, it presents a harmonious blend of aesthetics and practicality. Each apartment is thoughtfully crafted to offer residents a haven of serenity and indulgence, making Runwal Elegante a true oasis amidst the vibrant urban landscape.
Let us help you find your perfect property! Click below to schedule a consultation.
Contact Builder For Latest Offers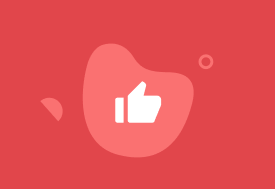 Thank You
Our Builder Representative Will Contact You Shortly
Back to Home
Unveiling Runwal Elegante: Where Luxury Meets Andheri West
Step into the heart of the vibrant Andheri West district, and you'll discover a remarkable architectural gem – Runwal Elegante. Runwal Elegante Andheri West effortlessly harmonizes elegance and comfort, creating an unparalleled residential haven that transcends expectations.
From the moment you step foot into this Runwal Andheri West project, you'll experience the meticulous craftsmanship that defines luxury living. Every detail, from the grand entrance to the thoughtfully designed interiors, encapsulates the essence of sophistication, offering a lifestyle that seamlessly integrates convenience, aesthetics, and comfort.
This project isn't just another address; it's a statement of prestige. Prepare to be captivated by a world where luxury meets practicality and every corner speaks of elegance. Here, opulence isn't just a feature – it's a way of life.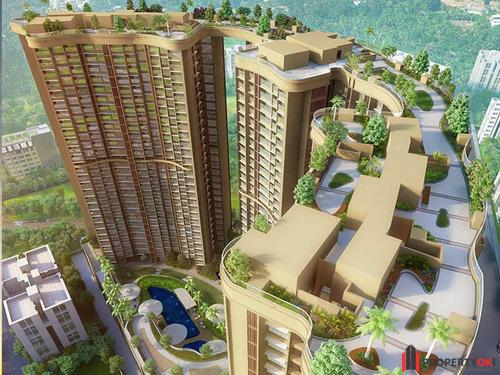 Towering Splendor: Exploring the Three Towers of Runwal Elegante Lokhandwala
Elevating the skyline of Andheri West with its grandeur, Runwal Elegante stands as a testament to architectural brilliance. The Runwal Andheri West project encompasses three towering structures, each a masterpiece in its own right, collectively accommodating 434 lavish apartments. These towers don't just punctuate the skyline – they redefine it, creating a focal point that embodies sophistication and modern living.
The panoramic vistas offered by these towers are nothing short of breathtaking. The meticulously designed layouts ensure that every apartment captures the essence of its surroundings, offering residents a canvas of vibrant cityscapes or serene landscapes, depending on their preference. These towers serve as elevated viewpoints, allowing residents to witness the dynamic energy of Andheri West in all its glory.
However, it's not just about the view. The towers' interiors manifest practicality and aesthetics that harmoniously coexist. With a perfect blend of opulent finishes and functional design, these towers are more than just structures; they're homes that inspire and embrace the essence of contemporary living.
Dive ino the details of the stunning project Runwal Pearl by reading this blog:

UNVEILING THE PERFECTION OF RUNWAL PEARL: YOUR ULTIMATE DREAM HOME DESTINATION
Your Dream, Your Space: Diverse Apartment Choices
Runwal Elegante Andheri West opens the door to an array of apartment choices, ensuring that individual preferences and lifestyles match perfectly. This project recognizes that luxury living is not a one-size-fits-all concept; it's a canvas upon which your unique aspirations can be painted. From the cosy embrace of a 2 BHK residence to the grandeur of a sprawling 5 BHK abode, Runwal Elegante is dedicated to turning your vision of luxury into reality.
The carefully curated range of apartments reflects the project's commitment to accommodating various needs and desires. Whether you're a young professional seeking a stylish nest or a family searching for a spacious haven, Runwal Elegante has a home that resonates with your dreams. Each apartment is a testament to meticulous design, offering living spaces and personalized sanctuaries that prioritize comfort and aesthetic allure.
Let's delve into the dimensions of these dream spaces:
2 BHK Flats: These intimate abodes span between 1465.00 – 1560.00 sq. ft., providing an ideal canvas for those who value style and efficiency. The thoughtful layouts optimize space while preserving a sense of luxury essential to your lifestyle.
3 BHK Flats: Ranging from 1360.00 – 2275.00 sq. ft., these residences are designed for those seeking an equilibrium between space and intimacy. The versatility of these homes is a reflection of your dynamic needs and aspirations.
4 BHK Flats: Encompassing an area of 1925.00 – 3000.00 sq. ft., these apartments symbolise grandeur and sophistication. They provide the perfect setting for families and individuals who value both comfort and lavishness.
5 BHK Flats: Spanning across 3420.00 sq. ft., these residences are a realm of expansive luxury. Tailored to accommodate large families or those desiring extra space, they redefine living large.
These new projects in Lokhandwala Andheri West aren't just offering living spaces; it's inviting you to step into a realm where your aspirations take center stage. Each apartment is meticulously designed to merge practicality with elegance, transcending conventional boundaries and setting a new standard for luxury living.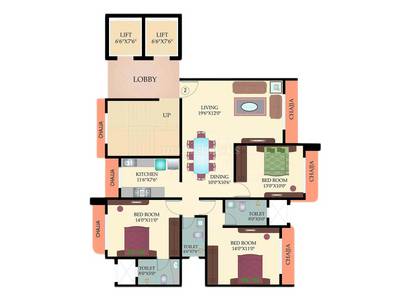 Runwal Elegante Floor plan
Exquisite Interiors: A Glimpse into the Harmonious Living of Runwal Elegante
Step into the world of Runwal Elegante, where interiors are more than just spaces – they are reflections of harmonious luxury that cater to your every need. The careful orchestration of design elements within these flats in Lokhandwala Andheri West showcases a seamless blend of luxury and practicality, crafting an environment that resonates with both comfort and aesthetic sensibilities.
1. Living Spaces: Within the homes of Runwal Elegante, living rooms unveil an aura of grandeur and warmth. Meticulously chosen colour palettes and premium materials combine to form spaces equally suited for relaxation and entertainment. These living rooms are more than areas; they are canvases where your moments come to life, and memories are forged in luxurious surroundings.
2. Serenity in Slumber: Bedrooms are sculpted as sanctuaries of serenity. A dance of comfort and style unfolds through thoughtful layouts, abundant natural light, and plush interiors. As daylight filters through the windows, these bedrooms become havens of rejuvenation, promising nights of restful slumber and mornings filled with renewed energy.
3. Culinary Artistry: The heart of this Runwal Elegante Andheri West project beats within its kitchen, a testament to culinary luxury. Equipped with top-tier appliances, modern fittings, and ample storage, these kitchens are not mere cooking spaces but laboratories of gastronomic exploration. The aroma of culinary creations mingles with the elegance of the kitchen's design, creating an experience that's as much about indulgence as it is about functionality.
4. Embrace Nature's Beauty: Step onto your private balcony and be captivated by the enchanting vistas of Andheri West. Whether it's a quiet moment of contemplation or a cup of morning coffee, the balcony transcends its physical boundaries, merging the comforts of indoor living with the beauty of the outdoors. Here, you are offered a front-row seat to the city's rhythm and the landscape's serenity, all while being cradled in the luxury of your home.
As you traverse the interiors of the project, you'll find a narrative that's carefully woven with threads of luxury, comfort, and functionality. It's a world where each element, from the living spaces to the kitchens, from the bedrooms to the balconies, contributes to an experience designed to be both aesthetically pleasing and genuinely livable.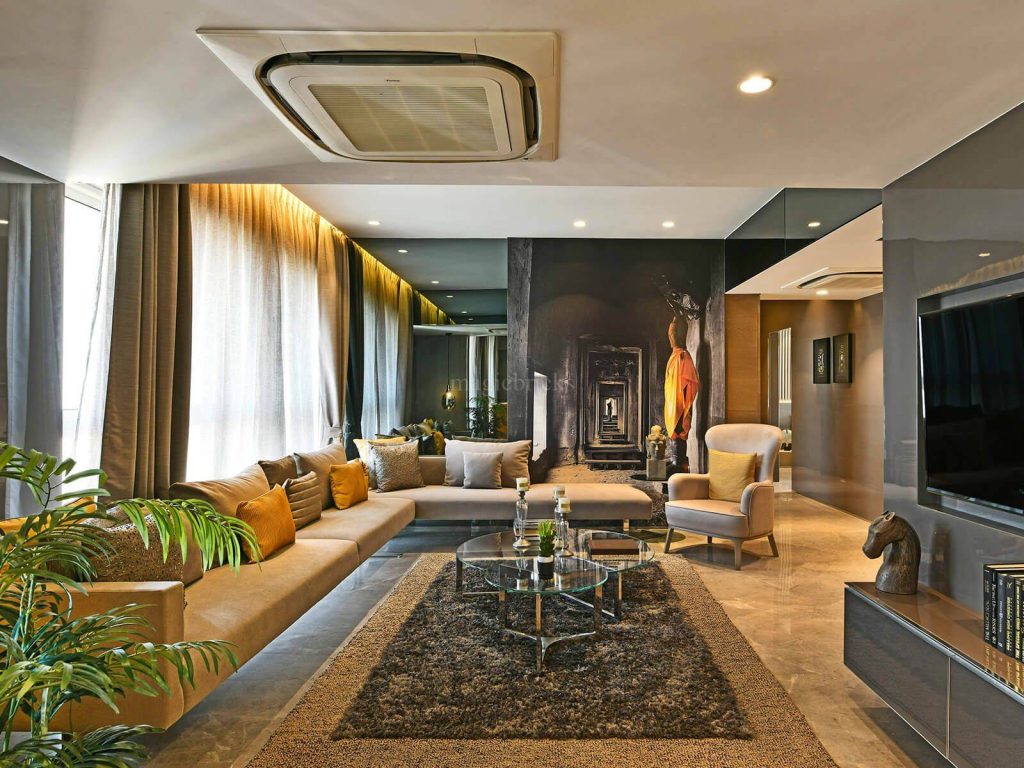 Luxury Redefined: Unveiling Runwal Elegante Flat Prices
In luxury living, affordability often seems like an elusive dream. However, at Runwal Elegante, dreams of opulent living are within reach and beautifully balanced with competitive pricing. This project isn't just about creating residences; it's about creating homes that cater to discerning tastes without compromising quality or location.
This Runwal Andheri West project is a testament to the belief that luxury isn't confined to exorbitant price tags. The flat prices of this project reflect the commitment of Runwal Developers to provide an exceptional lifestyle accessible to a wider spectrum of individuals who value extravagance and prudence.
1. 2 BHK Flat Prices: Ranging from INR 4.15 to 4.25 Crore, these apartments offer an entry point into a world of elegance and comfort. Investing in a Runwal Elegante 2 BHK flat secures a stylish living space and grants access to premium amenities and the prime location that Runwal Elegante offers.
2. 3 BHK Flat Prices: With INR 4.20 to 7.80 Crore, these residences embody the perfect equilibrium between space and luxury. Investing in 3 BHK flats in Andheri West is an investment in a lifestyle where sophistication meets functionality, and the residential experience is augmented by the project's impressive array of facilities.
3. 4 BHK Flat Prices: Spanning from INR 5.90 to 7.75 Crore, the Runwal Elegante 4 BHK apartments redefine luxury. The price range encapsulates the lavish interiors and the promise of belonging to a community that values refined living and superior amenities.
4. 5 BHK Flat Price: The 5 BHK flats in Andheri West are offered at INR 10.0 Crore for those seeking grandeur. This investment opens doors to expansive living spaces,
panoramic views, and an unparalleled living experience that's as exclusive as lavish.
Runwal Elegante's pricing strategy isn't just about affordability; it's about delivering unmatched value. The fusion of premium amenities, prime location, and competitive pricing transforms this project into a beacon of luxurious living poised to meet the aspirations of those seeking quality and financial prudence.
Read this blog to find out what makes the project Runwal Dahlia in Thane West so irresistible:

CATCH THE WAVE OF WONDER: WHAT MAKES RUNWAL DAHLIA IN THANE WEST SO IRRESISTIBLE?
Your Haven of Convenience: Runwal Elegante's Prime Location in Lokhandwala Andheri West
Set against the dynamic backdrop of Lokhandwala in Andheri West, Runwal Elegante not only redefines luxury living but also bestows upon you the privilege of residing in one of the most esteemed neighbourhoods. This isn't just a residence; it's a strategic gateway to a lifestyle that seamlessly integrates comfort, connectivity, and the allure of Lokhandwala's vibrant offerings.
1. Vibrant Connectivity: Runwal Elegante's location within Lokhandwala grants you access to a network of convenience. Whether it's accessing major transportation routes, business centers, or educational institutions, your daily commutes are streamlined, saving you valuable time and ensuring you're always well-connected.
2. Entertainment and Leisure: Being a part of Lokhandwala means immersing yourself in a world of entertainment. The neighbourhood offers various options to enrich your leisure time, from theatres showcasing the latest films to cultural events that enrich your evenings.
3. Shopping and Dining: The allure of Lokhandwala extends to its shopping and dining scene. Explore various retail outlets, boutiques, and local markets, ensuring that retail therapy is always around the corner. Regarding dining, Lokhandwala's restaurants and cafes offer a diverse culinary journey that caters to every palate.
4. Community and Lifestyle: Beyond the luxuries of Runwal Elegante's interiors, residing in Lokhandwala means being part of a vibrant community. Engage with like-minded individuals, participate in local events, and experience this neighbourhood's unique charm.
5. Cultural and Recreational Opportunities: The essence of Lokhandwala is woven into its cultural and recreational opportunities. With its cultural centers, parks, and recreational facilities, you'll find ample avenues to indulge in hobbies, foster creativity, and lead a balanced lifestyle.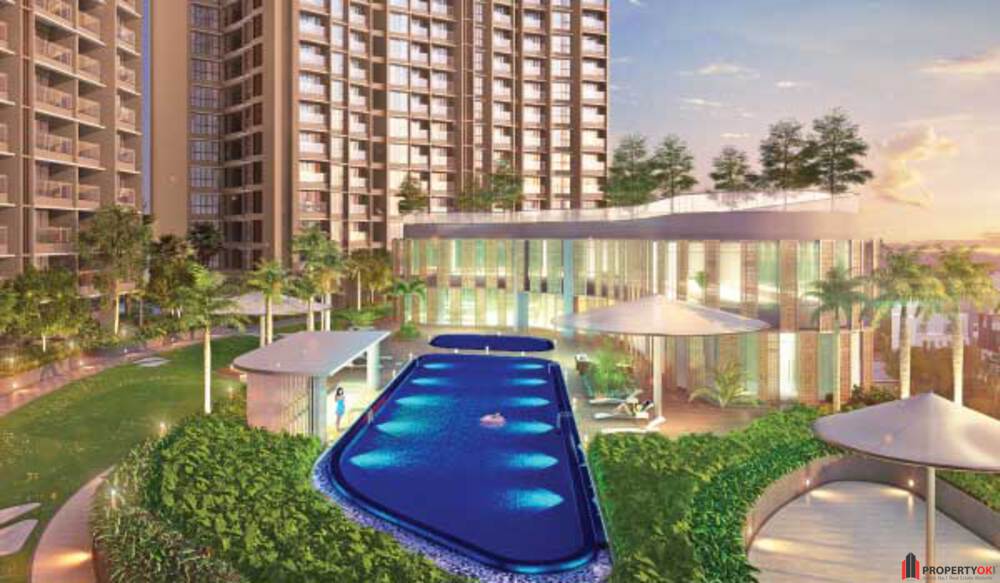 Read this blog to find out why Runwal Codename Rare is the most exclusive residential project in Mumbai:

UNVEILING RUNWAL CODENAME RARE: A GLIMPSE INTO MUMBAI'S MOST EXCLUSIVE RESIDENTIAL PROJECT
Conclusion
In the bustling heart of Andheri West, a masterpiece of architectural magnificence stands tall – Runwal Elegante. Developed by the renowned Runwal Developers, this project redefines luxury living. Runwal Elegante is more than just a residential complex; it's an exquisite lifestyle destination that combines elegance with comfort seamlessly. Each apartment is thoughtfully crafted to offer residents a haven of serenity and indulgence, making Runwal Elegante a true oasis amidst the vibrant urban landscape.
Runwal Elegante isn't just a housing project; it's a celebration of luxury, comfort, and finesse. With its diverse apartment options, captivating interiors, and competitive pricing, Runwal Elegante Andheri West is the pinnacle of refined living in Andheri West. Experience the harmonious blend of elegance and convenience by making Runwal Elegante your home. Connect with our experts today!
Frequently Asked Questions
1. Is Runwal Elegante ready for occupancy?
Yes, Runwal Elegante offers ready to occupy flats in Andheri West, providing the convenience of moving into your new home without delay.
2. How can I schedule a visit or get more information?
To schedule a site visit or inquire about prices, floor plans, or any other details, contact Runwal Developers' official website or their sales team for personalized assistance.
3. Is Runwal Elegante Andheri West suitable for families and individuals?
Yes, Runwal Elegante offers apartment configurations that cater to both families and individuals, providing diverse living options for a wide range of preferences and needs.