Located in the prime location of Chandivali, Mumbai, Raheja Ascencio is a real estate project that is redefining contemporary living with its visionary architecture, exquisite interior design, and extravagant amenities. If you're seeking a home that transcends expectations and offers a lifestyle of opulence, look no further than Raheja Ascencio.
Let's dive into why it tops the list of real estate projects in Chandivali and discover what sets it apart from the rest. Read on to elevate your living experience to new heights!
Invest in your future! Trust our experienced team of real estate professionals to help you make smart investments and grow your wealth.
Contact Builder For Latest Offers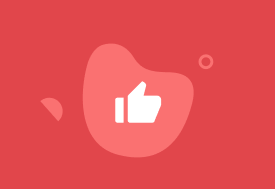 Thank You
Our Builder Representative Will Contact You Shortly
Back to Home
Prime Location Perks: Why Raheja Ascencio Chandivali Tops the List
Situated in the bustling neighbourhood of Chandivali, Raheja Ascencio stands tall as a testament to luxury living. Its prime location offers residents an array of perks that make it truly stand out from other real estate projects in the area.
First and foremost, the project's proximity to Powai Lake is a major draw for nature lovers. Residents can enjoy leisurely walks by the lake or indulge in outdoor activities like jogging and cycling.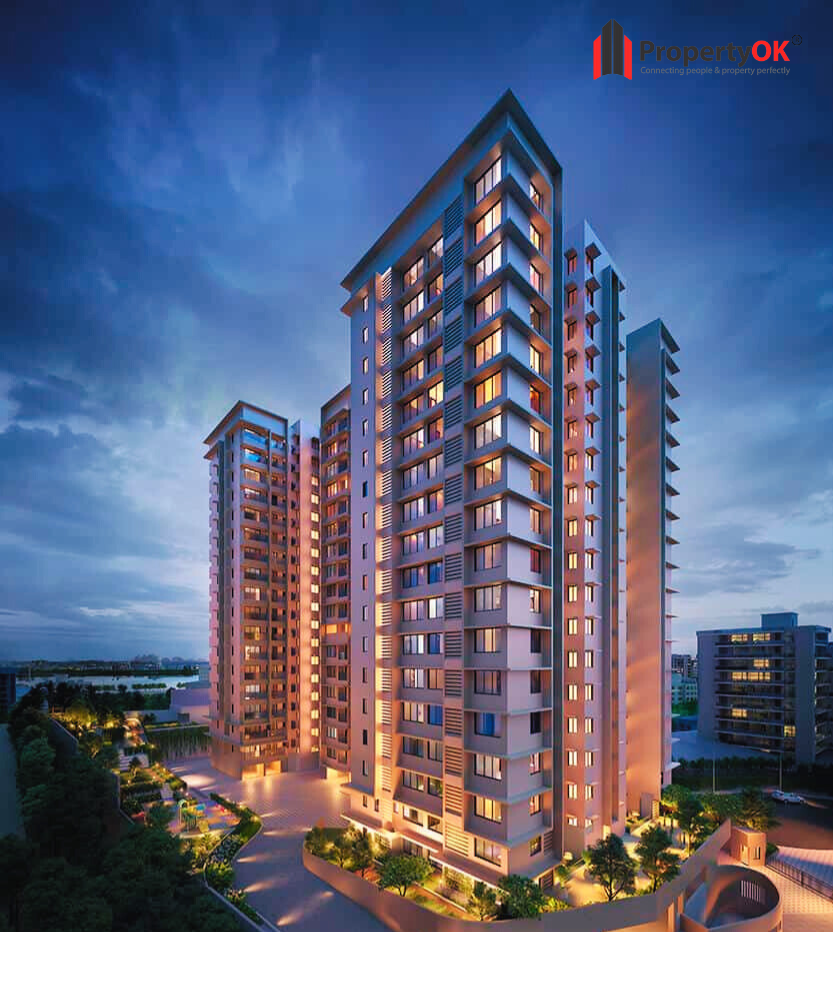 In addition, this prestigious development is strategically located near educational institutions, healthcare facilities, shopping centres, and entertainment hubs. With easy access to these amenities, residents can conveniently meet their daily needs without travelling far.
Transportation is also a breeze for residents of Raheja Ascencio Powai. The project is well-connected to major highways and arterial roads, which ensure smooth commuting experiences. Whether driving your car or relying on public transportation, getting around Mumbai has never been easier.
Moreover, being part of Chandivali's thriving commercial hub means job opportunities are just around the corner for professionals residing at K Raheja Ascencio. This translates into reduced commute times and more quality time spent with loved ones.
Raheja Ascencio's prime location offers numerous advantages that set it apart from other real estate projects in Chandivali. From its proximity to natural scenery and essential amenities to excellent connectivity options and employment opportunities – this project reigns supreme regarding convenience and lifestyle enhancement.
Read this blog to uncover the details of another stunning project in Mumbai:

HIRANANDANI ZEN ATLANTIS: A HIDDEN TREASURE OR A GOLDEN INVESTMENT OPPORTUNITY?
Elevating Expectations: The Visionary Architecture of K Raheja Ascencio
When it comes to architectural marvels, Raheja Ascencio Chandivali is a project that genuinely stands out. The visionary architecture of this development takes luxury living to new heights, quite literally!
Contemporary Design: One look at the towering structure, and you'll be awe-struck by its grandeur. The design seamlessly blends contemporary architecture with timeless elegance, creating a visual treat for residents and passersby. The use of glass facades not only adds a touch of modernity but also allows for breathtaking views of the surrounding landscape.
Space Utilisation: But it's not just about aesthetics; functionality is equally important here. Every inch of the building has been meticulously planned to ensure maximum space utilisation without compromising on comfort or privacy. From spacious balconies where you can unwind after a long day to well-designed common areas that foster community interaction, every aspect has been thoughtfully considered.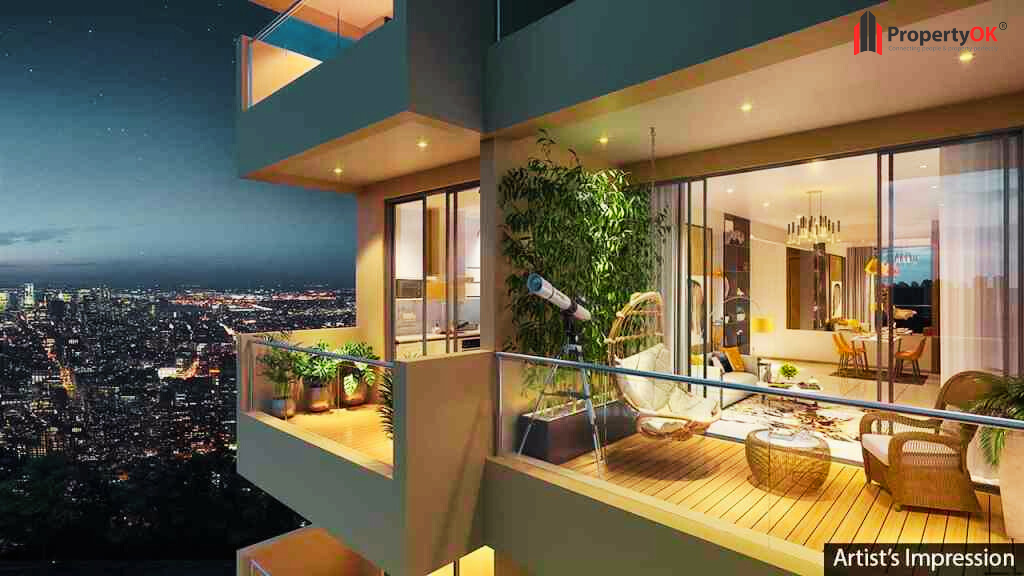 Innovative Concepts: Raheja Ascencio's architecture is a testament to visionary design and innovative concepts. The project is a true architectural marvel, setting new benchmarks in modern construction. The striking facade and distinctive design elements make K Raheja Ascencio an iconic landmark in Chandivali.
Eco-friendly Features: The architectural vision extends beyond aesthetics, focusing on sustainability and eco-friendly features. Abundant natural light and ventilation are seamlessly integrated into the design for enhanced comfort. The layout of each tower is strategically planned to offer unobstructed views and a sense of openness.
Elegance Personified: Unraveling Raheja Ascencio Powai's Interior Design and Floor Plans
The interiors of Raheja Ascencio Chandivali are a masterclass in tasteful design:
The moment you enter, you will be greeted by plush marble flooring that sets the tone for opulence. The spacious living rooms are adorned with expansive windows, allowing natural light to flood in and create an airy ambience.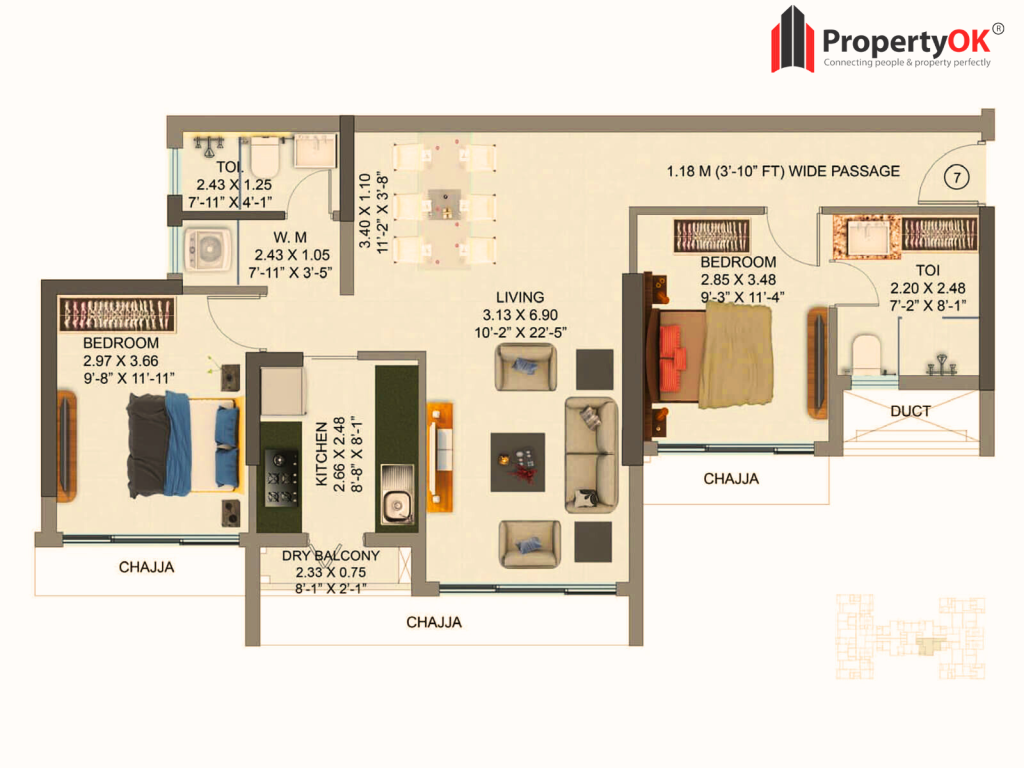 Raheja Ascenio Floor Plan 1
The kitchen has modern appliances and sleek fixtures; it provides the perfect setting to whip up culinary delights.
The bedrooms are havens of tranquility, featuring premium fittings and ample storage space to keep your personal belongings organised.
The Raheja Ascencio floor plan has been meticulously crafted to maximise comfort and functionality. Each of these 2 BHK, 3 BHK and 4 BHK flats in Chandivali has been thoughtfully designed to cater to your needs.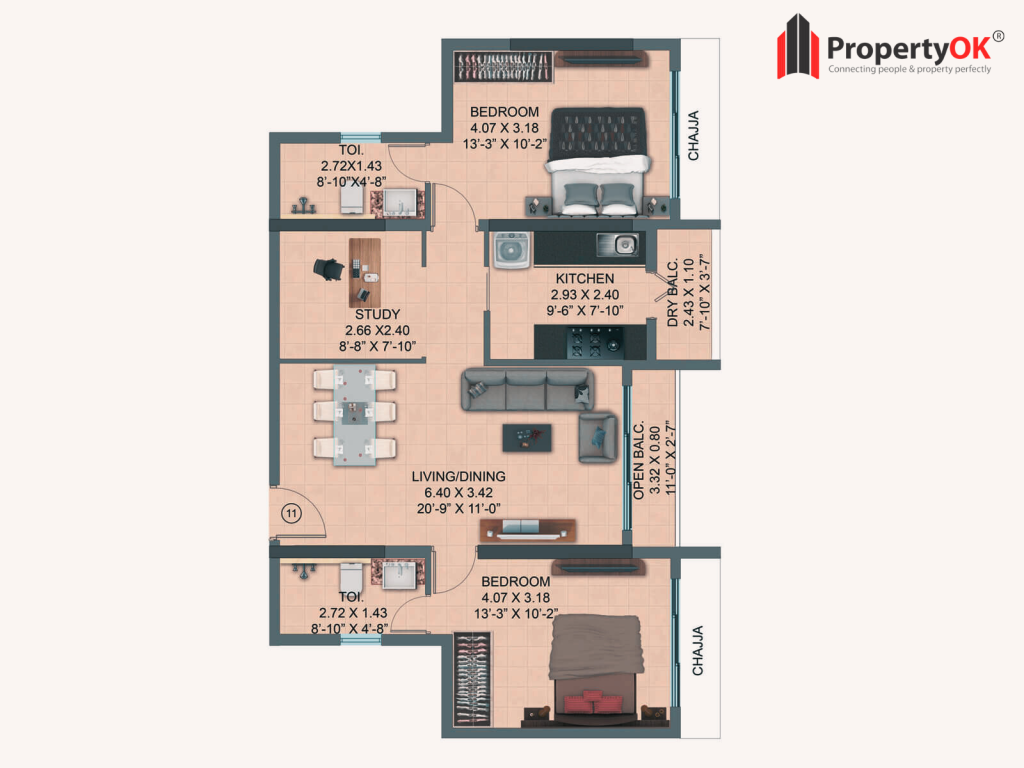 Raheja Ascencio Floor Plan 2
Impeccably designed bathrooms boast exquisite fittings, while balconies present breathtaking views of the surrounding landscape.
Floor plans are designed to optimise space usage, providing residents with roomy and practical living areas.
Residents can customise their living spaces, making each home unique and personalised.
Dig deeper into the cost of living in Mumbai by reading the blog below:

BREAKING DOWN THE COST OF LIVING IN MUMBAI: A COMPREHENSIVE GUIDE
Extravagant Amenities: A Glimpse into Raheja Ascencio's Luxury Living
When it comes to luxury living, Raheja Ascencio Powai raises the bar with its extravagant amenities that redefine opulence. Step inside this remarkable residential project and be prepared to be amazed.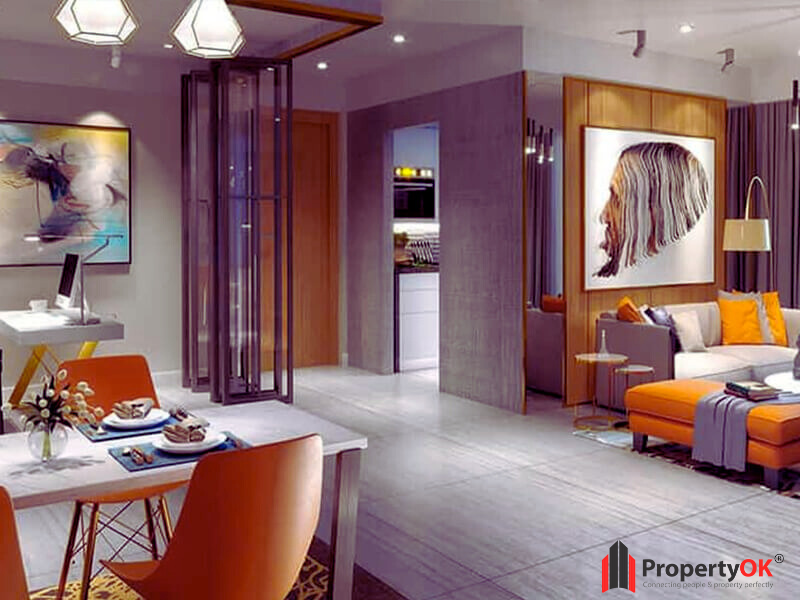 The lavish clubhouse at Raheja Ascencio is a haven of indulgence, offering residents many recreational activities. Whether you prefer a refreshing dip in the swimming pool or an intense workout session at the fully-equipped gymnasium, there is something for everyone here.
The landscaped gardens provide a serene escape from bustling city life, where one can unwind and rejuvenate amidst nature's beauty.
For those seeking entertainment options within their community, look no further than the state-of-the-art multipurpose hall and indoor games room at Raheja Ascencio Chandivali. From hosting parties to engaging in friendly table tennis matches or billiards, residents have access to endless possibilities for fun-filled gatherings.
Security is paramount at K Raheja Ascencio, with 24/7 CCTV surveillance and intercom facilities ensuring utmost safety for all residents. The dedicated parking spaces make owning multiple vehicles hassle-free while providing peace of mind.
To truly experience luxury living like never before, you can step onto the rooftop terrace garden at Raheja Ascencio. This breathtaking view offers panoramic vistas of Powai Lake and Mumbai's skyline – an ideal spot for relaxation or socialising with friends and neighbours.
Investing in Luxury: Exploring Options at Raheja Ascencio, Mumbai
Investing in Raheja Ascencio Chandivali means investing in luxury and exclusivity. With multiple options available, ranging from 2 BHK flats in Powai, there's something to suit every lifestyle and budget. So whether you're a young professional seeking your first home or someone looking for an upgrade, this project offers endless possibilities.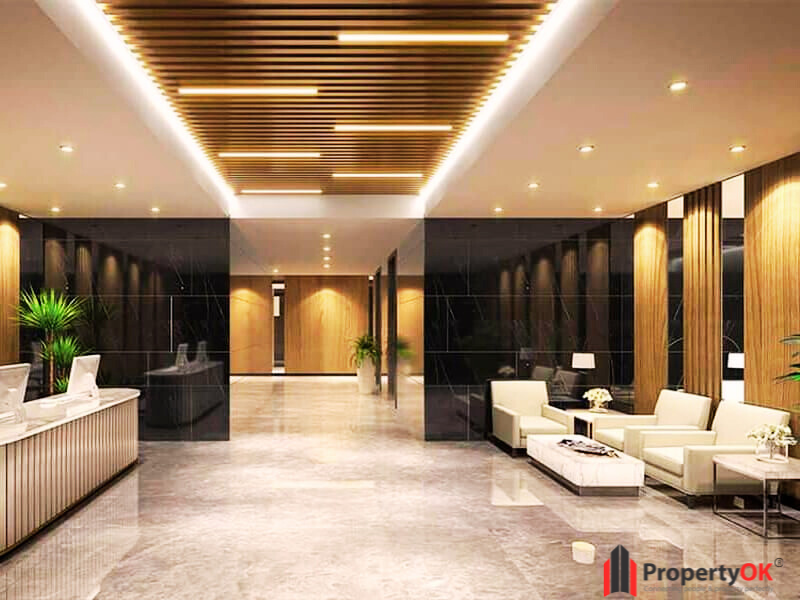 One can choose from various meticulously designed apartments, each offering spacious layouts and top-of-the-line finishes. The Raheja Ascencio floor plans have been thoughtfully crafted to maximise space utilisation while ensuring optimal comfort and functionality.
K Raheja Ascencio ticks all the right boxes when it comes to investing in luxury real estate with its proximity to major business hubs like Powai and renowned educational institutions, healthcare facilities, shopping centres, and entertainment destinations.
With its impeccable architecture, stunning interiors, extravagant amenities, and unbeatable location advantages – investing in Raheja Ascencio is not just about buying property; it's about embracing an upscale lifestyle that exudes sophistication and class.
So why wait? Explore your options today at these flats in Powai – where luxury living meets sky-high elegance!
Explore the posh areas in Mumbai by reading this blog:

EXPERIENCING THE BEST OF MUMBAI: EXPLORING THE POSH AREAS IN MUMBAI
Wrap-up
Raheja Ascencio stands tall as one of the most sought-after real estate projects in Chandivali, Mumbai. Its prime location offers a plethora of perks, including easy access to critical areas and amenities.
But it's not just the stunning interiors that make K Raheja Ascencio stand out; it's also the extravagant amenities. Every aspect has been carefully designed to cater to your comfort and enjoyment.
Investing in luxury has never been easier than at Raheja Ascencio. With various options to suit different budgets and preferences, potential buyers have ample choices when selecting their dream home or investment property.
Whether you're looking for an exquisite abode or a lucrative investment opportunity, Raheja Ascencio Chandivali should be on top of your list. Its sky-high sophistication, combined with its strategic location, makes it an ideal choice for those seeking the best that this region has to offer.
So why wait? Experience the epitome of luxury living at K Raheja Ascencio today! Reach out to our experts for more information about this exceptional project in Powai!
Frequently Asked Questions
1. Can non-resident Indians (NRIs) invest in Raheja Ascencio Chandivali?
Yes, NRIs can invest in K Raheja Ascencio per the guidelines set by the Reserve Bank of India (RBI). They are eligible to buy residential properties in India, subject to specific regulations. It's advisable for NRIs to consult with legal and financial experts to understand the rules and procedures involved.
2. How does Raheja Ascencio Powai support eco-friendly transportation options for residents?
K Raheja Ascencio encourages eco-friendly transportation by providing designated parking spaces for electric vehicles and bicycle racks and promoting carpooling among residents. The project's proximity to public transportation hubs also facilitates greener commuting options.
3. Is Raheja Ascencio a sustainable and eco-friendly project?
Yes, Raheja Ascencio is committed to sustainability. The project incorporates eco-friendly practices like rainwater harvesting, energy-efficient lighting, waste management systems, and green spaces to promote a greener and healthier living environment.