Rustomjee Elita, a luxurious residential complex in the heart of Andheri West, Mumbai, is an exquisite property that stands out as a symphony of style and sophistication. This project by Rustomjee Developers effortlessly blends modern amenities with classic elegance. Whether you're looking for a 2, 3, or 4 BHK, or an apartment that boasts comfort and convenience, Rustomjee Elita has something to offer everyone.
In this blog post, we'll explore the unique features and benefits of living in this iconic development while highlighting its prime location amidst notable landmarks and attractions in Andheri West. So get set to discover what makes Rustomjee Elita Andheri West one of the most sought-after properties in Mumbai today!
Start living your best life! Let us help you find a home that perfectly fits your lifestyle and needs.
Contact Builder For Latest Offers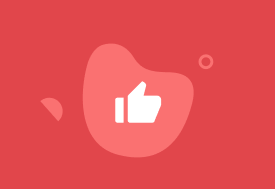 Thank You
Our Builder Representative Will Contact You Shortly
Back to Home
Notable Attractions and Advantages of Living in Andheri West
Andheri West is one of the most coveted locations in Mumbai. This upscale neighborhood offers a perfect blend of convenience, luxury, and entertainment. One major advantage of living in Andheri West is that it is well-connected to other areas of Mumbai through various modes of transport like trains, buses, and cabs. The Western Express Highway that runs through this area makes it easy to commute to different parts of the city.
Another notable attraction is the variety of shopping destinations available in Andheri West. From high-end boutiques to street markets, there's always something to keep you busy on weekends. Popular malls like Infiniti Mall and City Mall offer a range of brands, from local designers to international labels.
Andheri West also boasts an impressive culinary scene with numerous restaurants serving cuisines from around the world. From fine dining establishments like Glocal Junction and Mirchi & Mime to street food vendors selling delectable snacks, foodies will be spoilt for choice.
This vibrant neighborhood has many recreational options, such as parks, theaters, and sports clubs. Joggers Park and Gilbert Hill are ideal spots for outdoor activities, while Prithvi Theatre hosts some fantastic plays throughout the year.
Living in Andheri West provides residents with access to world-class amenities combined with an excellent quality of life – making it an attractive investment opportunity for homebuyers looking for style coupled with convenience!
Looking for your dream home? Learn about the top residential project by Rustomjee Developers in Thane West by clicking below:

Rustomjee Aurelia
Unveiling the Price Points of Rustomjee Elita
One of the most prestigious real estate developments in Mumbai, Rustomjee Elita Andheri West boasts world-class amenities and spacious apartments ranging from 2 BHK to 4 BHK.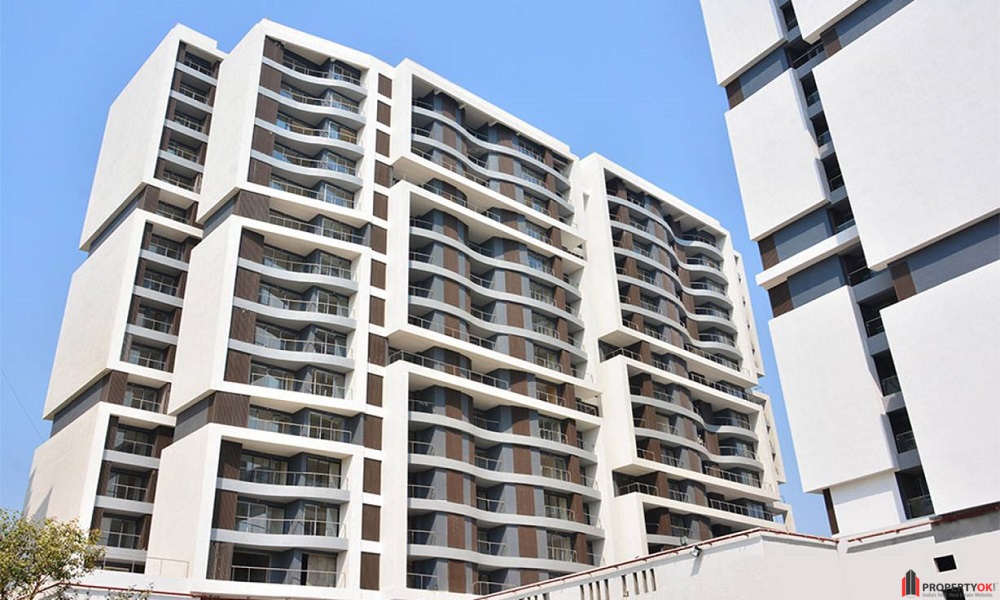 Rustomjee Elita Address:
Rustomjee Elita, Gharkul Society, Indira Nagar, D.N.Nagar, Andheri West, Mumbai, Maharashtra 400053, India
Rustomjee Elita Price Details:
The 2 BHK, 3 BHK, and 4 BHK apartment prices are as follows:
The starting price for a Rustomjee Elita 2 BHK apartment is Rs. 4.02 crores.
The price of a 3 BHK apartment ranges between 5.55 crores to 6.75 crores.
The Rustomjee Elita price for a larger unit like 4 BHK comes in the range of 9.54 crores to 10.55 crores approximately depending on several factors like size, facing, etc., making it an upscale investment option targeted towards high net-worth individuals seeking premium living spaces in Mumbai's most wanted neighborhoods.
The inclusion of the latest features, such as Italian marble flooring, modular kitchens with branded fittings, along with leisure facilities, makes Rustomjee Elita stand out from other residential projects across the city, offering similar amenities at relatively lower prices.
Rustomjee Elita Andheri West appeals to those who demand luxury combined with serene surroundings and strategic advantages with its exclusive location – whether you're looking to entertain guests or simply relax after work hours amidst scenic greenery.
The Rustomjee Elita Floor Plan and Layout
Rustomjee Elita Andheri West is a masterpiece in terms of design and layout. The architects have created an ideal blend of aesthetics and functionality, making this residential complex stand out from the rest.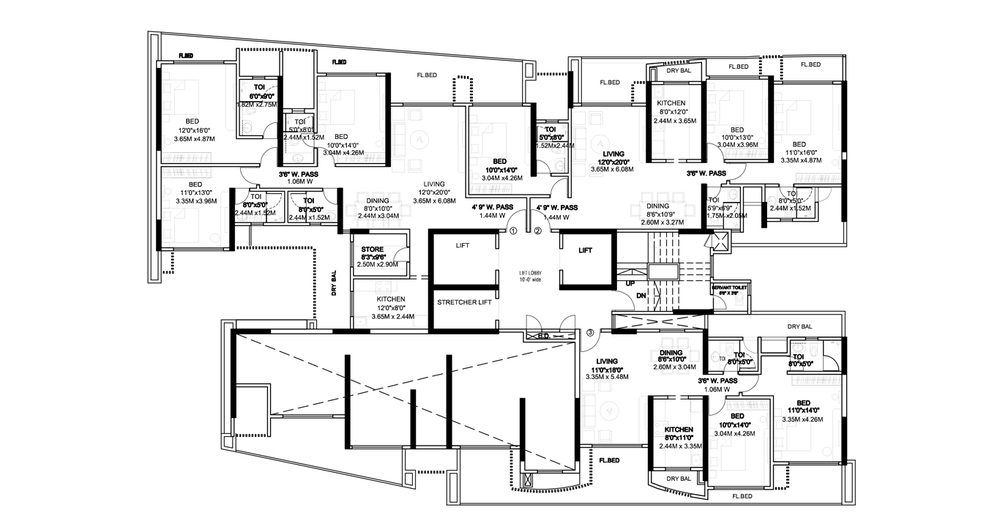 Rustomjee Elita Floor Plan
The Rustomjee Elita 2 BHK, 3 BHK, and 4 BHK apartments are designed to offer ample living space while also ensuring privacy for every resident. The interiors are thoughtfully planned, with large windows that let in natural light, spacious balconies that provide stunning views of the city skyline, and modern amenities that cater to your every need.
Each apartment has been designed keeping in mind the needs of today's urban families. From modular kitchens with top-of-the-line appliances to luxurious bathrooms with premium fittings- everything has been curated carefully to meet the highest standards.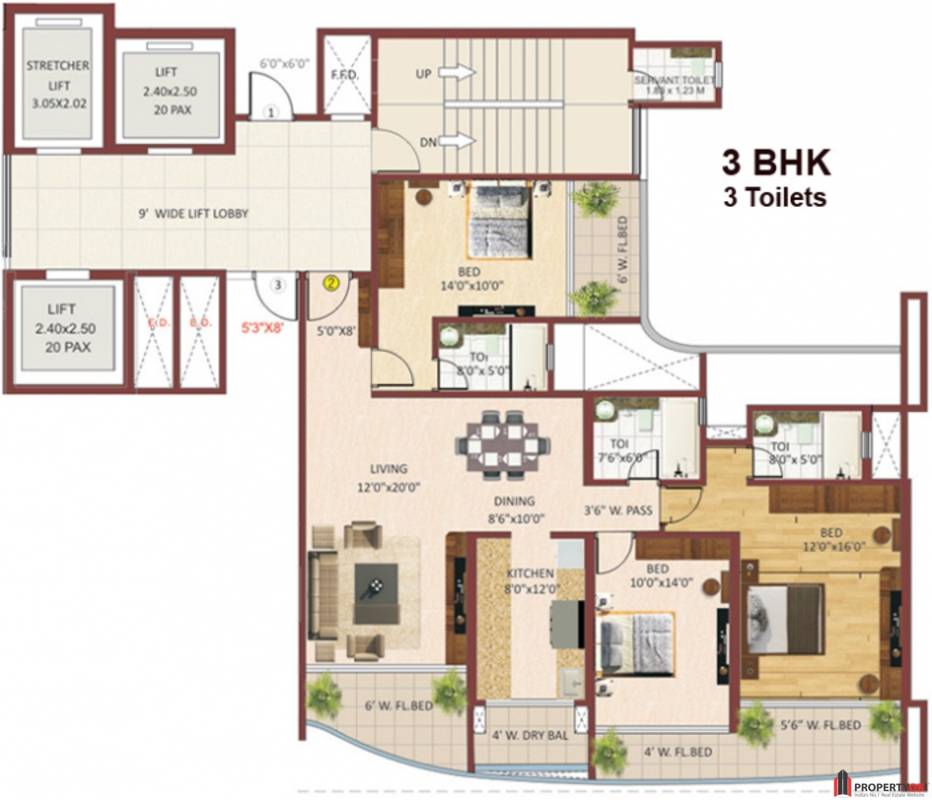 Rustomjee Elita 3 BHK Floor Plan
The common areas at Rustomjee Elita are equally impressive. The lobby is grand and welcoming, while the landscaping around the complex adds a touch of greenery amidst the concrete jungle of Mumbai.
In short, if you're looking for a home that offers both style and substance, then look no further than Rustomjee Elita Andheri West!
Take a deep dive into one of the best projects in Thane West by clicking below:

AMBER HEIGHTS
Key Amenities that Make Rustomjee Elita a Desirable Place to Live
Rustomjee Elita is a luxurious residential project in Andheri West that offers an array of amenities to make living comfortable and convenient. One of the major features of these residences is undoubtedly the grand entrance lobby, which sets the tone for what lies ahead.
Once inside, residents can access a fully equipped gymnasium, swimming pool, children's play area, and landscaped gardens. These amenities are designed considering the needs and preferences of modern-day families who value health and wellness.
For those who enjoy entertaining guests or hosting parties, Rustomjee Elita Andheri West also has a banquet hall with attached kitchen facilities. This feature allows residents to celebrate special occasions without worrying about finding external venues.
In addition, there are dedicated areas for indoor games like table tennis and carrom board and outdoor sports like basketball and badminton. For pet lovers, there is even a designated pet park where they can spend quality time with their furry friends.
Rustomjee Elita offers an extensive list of amenities that cater to all age groups ensuring everyone has something fun or useful within reach at any given moment.
The Attention to Detail Put Into the Creation of These Residences
The attention to detail put into the creation of Rustomjee Elita Andheri West is evident from the moment you step inside. The lobby, for instance, features Italian marble flooring and a beautifully crafted reception desk that exudes luxury.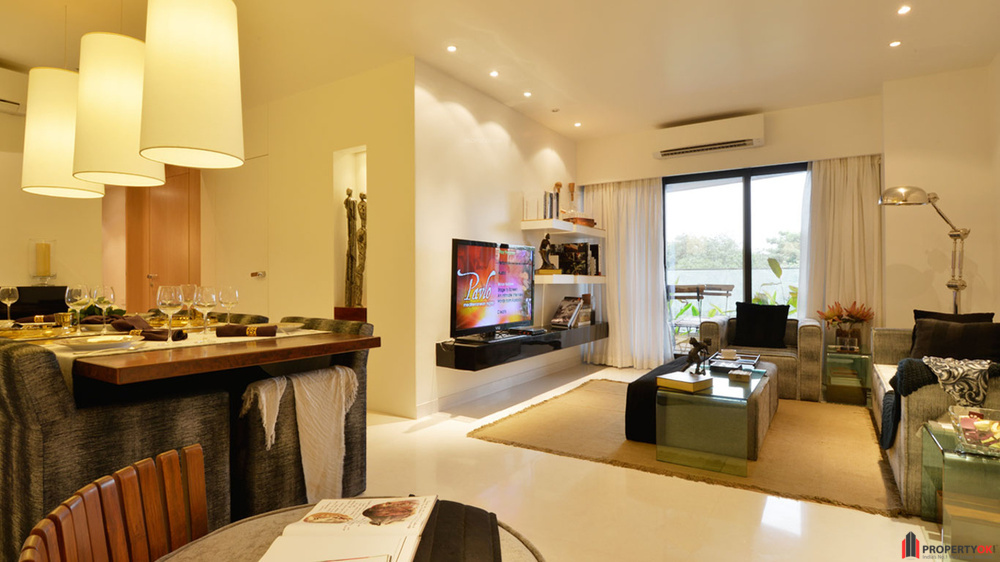 Moving on to the residences themselves, every aspect has been carefully considered to ensure maximum comfort and convenience for residents. The spacious living areas have high ceilings and large windows that allow natural light to flood in.
The kitchens have top-of-the-range appliances and fittings, including a built-in hob and chimney. Meanwhile, the bedrooms feature engineered wooden flooring and well-placed electrical points for easy use.

In addition to these practical considerations, there is a strong emphasis on aesthetics throughout Rustomjee Elita. From designer bathroom fixtures to premium wall finishes, every element has been chosen with an eye towards creating a truly luxurious living experience.
It's clear that no detail was too small or insignificant when it came to designing these residences. This level of care and attention sets Rustomjee Elita apart from other luxury flats in Andheri West – making the Rustomjee Elita project the most desirable one in Mumbai today.
Interested in learning about the legalities of a release deed? Read this blog:

THE LEGALITIES OF A RELEASE DEED: WHAT YOU NEED TO KNOW BEFORE SIGNING IN INDIA
Popular Landmarks Near Rustomjee Elita Andheri West
Rustomjee Elita boasts a wealth of popular landmarks within proximity. One landmark is the famous Juhu Beach, just 4 km from Rustomjee Elita. This iconic beach offers breathtaking sunsets and an array of local food options.
Another notable landmark near Rustomjee Elita Andheri West is the versatile Kokilaben Dhirubhai Ambani Hospital and Medical Research Institute – only 3 km away. Residents can rest assured knowing that world-class healthcare services are at their doorstep.
For those looking for a spiritual experience, Siddhivinayak Temple and Mahalaxmi Temple are within 30 minutes drive from Rustomjee Elita. These temples are renowned for their beautiful architecture and peaceful atmosphere.
Additionally, there are several educational institutions nearby, including Ryan International School and Sardar Patel College of Engineering, among others.
For entertainment purposes, Fun Republic Mall, with its multiplex cinema screens, lies just 2km from Rustomjee Elita, while Infinity Mall is also nearby, offering great shopping experiences to residents.
All these landmarks make living in Rustomjee Elita even more desirable as they provide easy access to world-class facilities enhancing the overall lifestyle quotient of residents here.
Explore this blog for insights and perspectives on Rectification Deed in real estate:

WHAT IS RECTIFICATION DEED IN REAL ESTATE?
The Cultural, Entertainment, and Recreational Aspects of the Neighborhood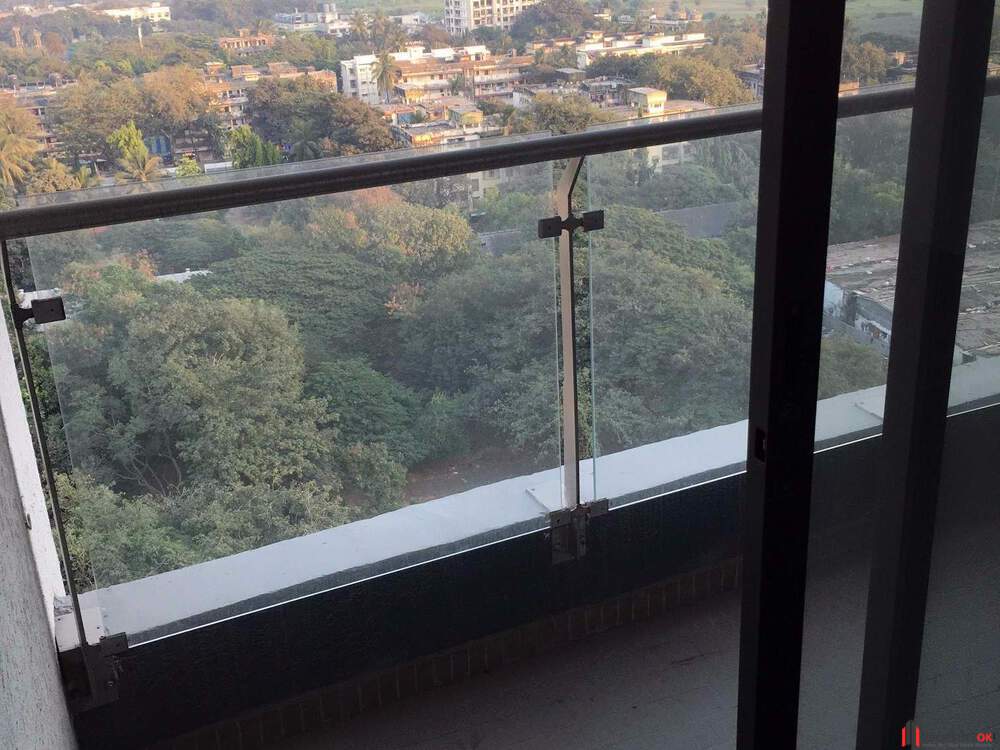 The Andheri West neighborhood is undoubtedly one of the most culturally rich and diverse areas in Mumbai. It boasts a vibrant nightlife, an array of gourmet restaurants, cafes, bars, and clubs that cater to every taste.
For those who appreciate art and culture, several galleries are showcasing contemporary artwork from both local and international artists. The Prithvi Theatre is also just a stone's throw away from Rustomjee Elita, where you can enjoy live performances ranging from plays to stand-up comedy shows.
Sports enthusiasts will be delighted with the nearby Juhu Beach, which offers ample opportunities for jogging or practicing yoga on the sand. Additionally, residents can access fitness centers within walking distance.
Families with children also have nothing to worry about as there are many entertainment options available such as amusement parks like Essel World and Water Kingdom which offer thrilling rides for all ages.
Living at Rustomjee Elita Andheri West means being part of a community that values cultural diversity and promotes healthy lifestyles while providing abundant choices for leisure activities.
Key Takeaways
Ultimately, Rustomjee Elita emerges as a shining example of style and sophistication in Andheri West, Mumbai. With its meticulously crafted design, top-notch amenities, and strategic location near popular landmarks and recreational hubs, it offers residents an unparalleled living experience. Its proximity to major corporate establishments makes it ideal for professionals working in the area.
The blend of luxury features and modern conveniences at Rustomjee Elita caters to the demands of today's fast-paced lifestyle while ensuring a comfortable environment that promotes relaxation after a long day. For those looking for the perfect balance between work-life integration and upscale living standards, this residential haven ticks all boxes.
By choosing Rustomjee Elita as their home address in Andheri West, residents can expect nothing short of excellence from their surroundings. So when you're ready to step into a world where every aspect is tailored to your needs – be it space planning or amenities designed with precision – look no further than this luxurious abode that promises to elevate your lifestyle beyond expectations!
Frequently Asked Questions
1. How convenient is accessing other parts of Mumbai from Andheri West?
Andheri West is an excellent choice for those who want easy access to the big city of Mumbai. It is well connected to central and western suburbs through a network of roads, public transport systems, and expressways. With Rustomjee Elita, you can enjoy quick access to some of the most important landmarks in Mumbai, such as Bandra Kurla Complex, Powai, Worli Sea Link, and others. The international airport is also just 15-20 minutes from the project. You can enjoy hassle-free commuting around the city with Rustomjee Elita!
2. What security features are implemented within the project premises?
Rustomjee Elita Andheri West offers a secure and safe living experience with its advanced security systems. It is monitored 24/7 by CCTV surveillance cameras. The compound walls are high and have additional electrical fencing as an added layer of security. Residents will also get access to advanced electronic entry systems, automated car parking, fire protection sprinkler systems, and well-trained security guards for their safety and peace of mind.
3. How easy is commuting to commercial hubs, entertainment zones, or educational institutions from Andheri West?
Located at the heart of suburban Mumbai, Andheri West is an ideal location for those who want easy access to commercial hubs, entertainment zones, or educational institutions. Rustomjee Elita is located close to the city's top commercial districts like Bandra-Kurla Complex and Lower Parel, making it a breeze to commute for work. Similarly, there are a host of entertainment zones like Juhu Beach and Versova and reliable educational institutions such as Mumbai University, all situated within 5 kilometers from the project. This makes Rustomjee Elita Andheri West an ideal location for homebuyers seeking easy accessibility and convenience.