Godrej Exquisite, an under-construction project situated on the prominent Ghodbunder Road, Thane, is a testament to modern living combined with thoughtful design. Developed by the esteemed Godrej Properties, this project is set to redefine the art of fine living. With its prime location, meticulous planning, and top-notch amenities, investing in Godrej Exquisite is undoubtedly a prudent choice for those seeking long-term prosperity.
Let us help you find your perfect property! Click below to schedule a consultation.
Contact Builder For Latest Offers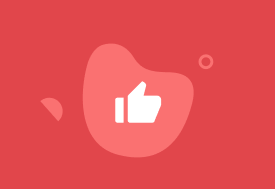 Thank You
Our Builder Representative Will Contact You Shortly
Back to Home
Unveiling Godrej Exquisite: A Glimpse into Elegance
Picture this: a tranquil haven at the heart of Thane's vibrant cityscape. That's precisely what Godrej Exquisite Thane brings to life—a residential paradise about redefining your idea of modern living. Encompassing a sprawling 4 acres, this residential gem isn't just a project; it's a realization of dreams.
As you step onto the premises, you'll be greeted by a sight straight out of a fairy tale. Three magnificent towers stand tall, a testament to impeccable planning and design. These towers aren't just structures; they reflect the renowned Godrej Properties' commitment to excellence. The name "Godrej" is synonymous with trust, making Godrej Exquisite an emblem of prestige right in the heart of Thane.
But it's not just about the towers but the stories they hold within. With a total of 555 thoughtfully designed flats, Godrej Properties Thane offers homes catering to diverse families' dreams and aspirations. Whether you're a young professional yearning for a peaceful retreat or a family searching for a haven to build memories, this new project in Ghodbunder Road has the perfect space for you.
Venture beyond the impressive façade, and you'll discover a world of intricate details that make Godrej Exquisite stand out. It's more than a residential complex; it's an experience that seamlessly blends architecture and nature. The lush green spaces beckon you to connect with the outdoors and find your slice of serenity.
As the sun sets, the towers come alive with lights, adding a touch of enchantment to the landscape. The interiors are a canvas waiting for your personal touch, where every nook and cranny has been carefully designed. Godrej Thane project isn't just a place to live; it's a place to flourish. Stepping through its gates isn't just entering a new residence; it's embarking on a journey of elegance and charm, where each moment holds the promise of something extraordinary.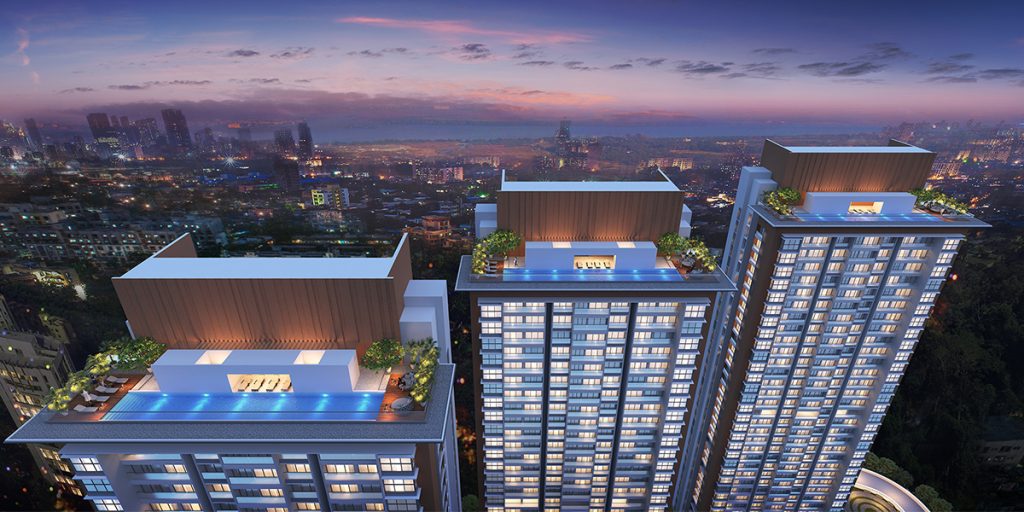 Abode of Choices: 2 BHK and 3 BHK Flats
When it comes to finding a home that perfectly suits your lifestyle, Godrej Exquisite stands out as a beacon of choice and variety. This residential marvel isn't just about buildings but crafting spaces that align with your dreams. With an emphasis on catering to the diverse needs of homeowners, Godrej Exquisite presents an array of options through its thoughtfully designed floor plans.
One of the standout features of this project is the availability of both 2 BHK and 3 BHK configurations. These options are more than just numbers; they represent the flexibility to choose a living space that resonates with your requirements. The 2 BHK flats, spanning an area of 655.00 to 724.00 sq. ft., offer a cosy yet functional setting for those seeking a snug abode.
On the other hand, the 3 BHK units, ranging from 772.00 to 922.00 sq. ft., provide a more spacious canvas for larger families or individuals who appreciate a little extra room to breathe. The beauty of this variety lies in its ability to cater to families of different sizes and preferences.
Whether you're a young couple, a growing family, or an individual seeking more space, Godrej Exquisite is the perfect fit for you. Each flat is a testament to the project's commitment to creating living spaces that aren't just functional but also aspirational.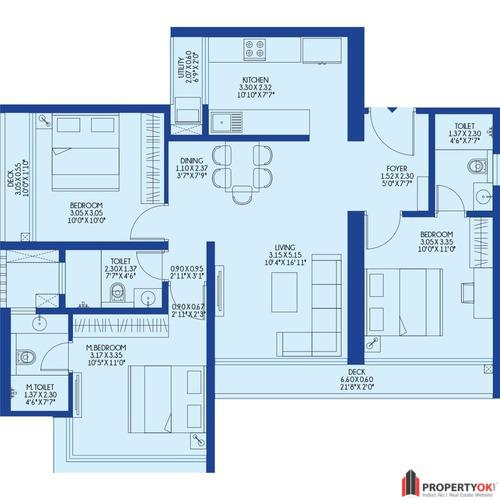 Godrej Exquisite Thane Floor Plan
Affordable Luxury: Pricing Details
Pricing is like a compass guiding potential homeowners towards their dream abode in real estate. Godrej Exquisite takes this aspect to heart, seamlessly blending luxury's allure with affordability's practicality. This unique approach to pricing showcases the project's commitment to making opulent living accessible to a broader audience.
For those seeking the perfect balance between comfort and value, Godrej Exquisite presents an array of options. The 2 BHK flats, thoughtfully designed to optimize space and functionality, are priced between INR 1.85 – 2.45 Crores. This range provides prospective buyers with a variety of choices, ensuring that they can find a home that not only suits their lifestyle but also fits their budget.
Stepping up a notch, the 3 BHK flats offer even more space and possibilities. With prices ranging from INR 2.50 – 3.50 Crores, these units embody the essence of affordable luxury flats in Thane. Every aspect of these homes, from the carefully planned layouts to the finest finishes, reflects a dedication to providing an elevated living experience without compromising financial feasibility.
What makes this pricing strategy exceptional is its ability to position Godrej Exquisite as an attractive proposition for many homebuyers. Whether you're a young professional investing in your first property, a family looking to upgrade, or someone seeking a sound investment opportunity, these price points cater to diverse aspirations.
Find out the top reasons to choose Godrej Nirvaan for an urban lifestyle by reading this blog:

THE TOP REASONS TO CHOOSE GODREJ NIRVAAN FOR AN URBAN LIFESTYLE
Indulge in Unparalleled Luxury: Interior and Amenities
Step into a realm of sophistication and comfort within the walls of Godrej Exquisite Thane, where the interiors redefine the essence of modern living. Infused with contemporary design and an air of elegance, every inch of space has been thoughtfully crafted to offer an unparalleled living experience.
As you explore the interiors, each room is a canvas of style and functionality. Often considered the heart of any home, the kitchen is a testament to modern culinary artistry. Equipped with top-of-the-line fixtures and ample counter space, it's a space where culinary creativity flourishes. Whether you're a gourmet chef or a casual cook, the kitchen caters to your every need.
Moving on to the bedrooms, tranquillity takes centre stage. Every aspect, from the layout to the choice of materials, has been carefully considered to create a haven of relaxation. Spacious and inviting, the bedrooms offer the perfect balance between restfulness and functionality. As natural light pours through well-placed windows, these spaces become sanctuaries of calm, inviting you to unwind and rejuvenate.
The living room, often the heart of social gatherings, is a masterpiece. Designed to be spacious and inviting, it's a place where conversations flow freely and memories are created. The living area seamlessly connects with the surrounding environment, inviting natural light and a sense of openness. Whether hosting friends or spending quality time with family, this space adapts to your needs, reflecting modern living.
Balconies, the gateways to the outside world, offer a breath of fresh air and stunning views. These spaces extend the living area and create a seamless transition between indoor and outdoor living. Whether sipping your morning coffee or watching the sunset, the balconies become your private retreats, allowing you to connect with nature and soak in the beauty around you.
At Godrej Thane project, every detail is too small to be overlooked. Every element, from the fixtures to the finishes, reflects keen attention to detail. The interiors are a testament to the project's dedication to creating a space that isn't just a dwelling but a masterpiece of design, functionality, and comfort. With each room telling a story of its own, Godrej Exquisite ensures that every moment spent within its walls is an experience of indulgence and luxury.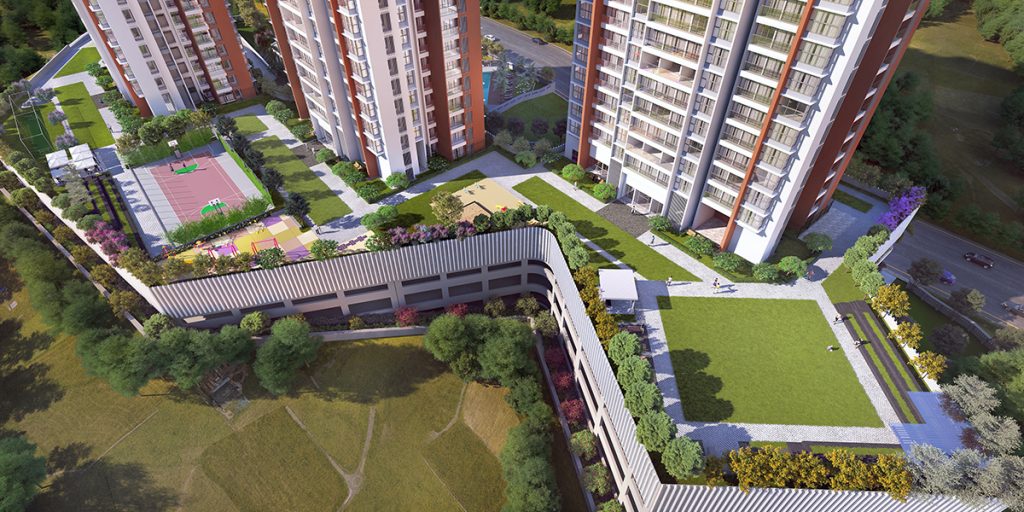 Find out 5 reasons why Godrej Upavan is the perfect residential choice by reading this blog:

5 REASONS WHY GODREJ UPAVAN IS THE PERFECT RESIDENTIAL CHOICE
Amenities That Elevate Lifestyle
Beyond its elegant interiors, Godrej Exquisite goes above and beyond to offer a world of amenities that cater to its residents' diverse needs and desires. This isn't just a place to live; it's a community designed to enhance every aspect of your lifestyle. Let's take a closer look at some of the standout features that set this project apart and make it a haven of comfort and convenience:
1. Swimming Pool and Fitness Center: Dive into a wellness world with a state-of-the-art fitness centre and a luxurious swimming pool. Whether you're an early riser looking for a refreshing morning swim or someone who enjoys a good workout, these amenities offer a space to stay active and rejuvenated.
2. Landscaped Gardens: In the midst of the urban hustle and bustle, Godrej Properties Thane offers an oasis of tranquillity with its beautifully landscaped gardens.
3. Children's Play Area: Kids need space to grow, learn, and have fun. Godrej Properties understands this and offers a safe and enjoyable play area where children can explore, interact, and create lasting memories.
4. Clubhouse Facilities: Socializing and relaxation take center stage at the clubhouse. This is where friendships are formed, celebrations come to life, and moments are cherished. From social gatherings to parties, the clubhouse provides versatile spaces that adapt to your needs.
5. 24/7 Security: Your safety and peace of mind are paramount at Godrej Exquisite. The project prioritizes security with round-the-clock security personnel and advanced surveillance systems.
6. Sports Facilities: Engage in sports and recreational activities without leaving the premises. From indoor games to outdoor sports, there's something for everyone.
7. Ample Parking: Convenience is essential, and Godrej Exquisite understands this by providing ample parking facilities. Your vehicles are well taken care of, ensuring you can come home to a hassle-free parking experience daily.
With these exceptional amenities, Godrej Exquisite goes beyond being a residential project; it becomes a community that enriches your life in every way. From fitness and relaxation to recreation and security, every facet of your lifestyle is elevated, making this haven more than just a home—it's a destination that caters to your holistic well-being.
Discover the details of the project Sky Gardens at Godrej Vihaa by reading the blog below:

SKY GARDENS AT GODREJ VIHAA: A STEP TOWARDS SUSTAINABLE LIVING
Embrace a Life of Convenience: Location Advantage
Nestled strategically along the bustling Ghodbunder Road in Thane, Godrej Exquisite boasts a location that adds another layer of brilliance to its offerings. This prime location is more than just an address; it's a gateway to effortless connectivity and an enriched lifestyle. Let's delve deeper into the advantages this location brings:
1. Connectivity Beyond Boundaries: Ghodbunder Road isn't just any road; it's a lifeline connecting the Eastern and Western Express Highways. This strategic positioning places Godrej Exquisite at the crossroads of convenience, allowing residents to navigate Mumbai's intricate web of roads easily. Whether heading towards the city's heart or venturing outwards, access to major highways simplifies your daily commute and opens up a world of possibilities.
2. Proximity to Essential Facilities: Godrej Exquisite's location isn't just about roads; it's about being within reach of essential facilities that define modern living. Imagine having reputable schools, advanced healthcare centers, bustling shopping hubs, and vibrant entertainment destinations just a stone's throw away. This proximity translates into precious time saved and enhanced convenience in every aspect of your life.
3. An Oasis Amidst the Urban Bustle: Godrej Exquisite offers a serene oasis despite its urban surroundings. The project's setting on Ghodbunder Road allows you to stay connected to the city's pulse while being able to retreat to a peaceful haven. It's the perfect balance between the energy of urban living and the tranquillity of nature.
4. Lifestyle Beyond the Walls: Living at Godrej Exquisite means embracing a lifestyle that extends beyond the four walls of your home. Whether exploring cultural events, indulging in retail therapy, or seeking recreational pursuits, the location's access to entertainment hubs ensures that there's never a dull moment. You're not just a resident but part of a thriving community in tune with the city's rhythm.
5. Investment Potential: Godrej Exquisite's location isn't just about convenience; it's also an investment in your future. Properties in well-connected and thriving areas tend to appreciate over time, making this a home and an intelligent investment decision.
Godrej Exquisite's location isn't just an additional feather in its cap; it's a crown jewel that amplifies the project's appeal. By placing you at the heart of convenience, connectivity, and a vibrant lifestyle, this location ensures that every day is marked by comfort, possibility, and the thrill of urban exploration. It's a location that doesn't just define your address; it shapes how you experience life.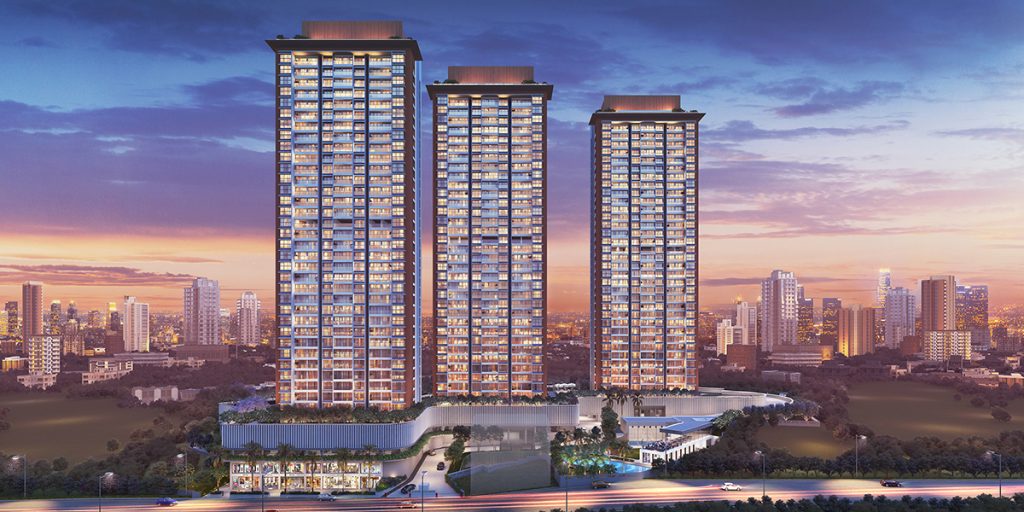 Find out about the Flats in Ghodbunder Road Thane by reading this blog:

PARADISE FOUND: FLATS IN GHODBUNDER ROAD, THANE, THAT EXUDE GRANDEUR
Conclusion
Godrej Exquisite isn't just a residential project; it's a statement of refined living. Its superior design, prime location, and wide array of amenities offer an unparalleled lifestyle that's bound to appreciate over time. Investing in Godrej Exquisite Thane is not just a decision; it's a commitment to long-term prosperity and a life filled with luxury, convenience, and comfort. Secure your future today by investing in this exquisite haven in Ghodbunder Road, Thane.
Frequently Asked Questions
1. Is Godrej Exquisite a good investment opportunity?
Investing in Godrej Exquisite Thane can be a wise decision for long-term prosperity. With its luxurious amenities, strategic location, and the developer's reputation, it presents a promising opportunity for both comfortable living and potential appreciation.
2. What types of flats are available at Godrej Exquisite Thane?
Godrej Exquisite offers a variety of options with 2 BHK and 3 BHK configurations. The 2 BHK flats range from 655.00 to 724.00 sq. ft., while the 3 BHK units span from 772.00 to 922.00 sq. ft., catering to different family sizes and preferences.
3. How can I get more information about Godrej Exquisite and its booking process?
To gather more information about the project, including the booking process, pricing, and availability, you can visit the official website of Godrej Properties or contact their sales team directly. They will be able to provide you with accurate and detailed information to help you make an informed decision.