Are you searching for the perfect abode that seamlessly blends comfort, luxury, and practicality? Look no further than Godrej Ascend Phase 2! Nestled in the heart of a vibrant community, this magnificent residential complex is not just an architectural marvel; it's a haven designed exclusively for families and professionals alike. Boasting exceptional amenities, breathtaking views, and convenient connectivity to key areas of the city, Godrej Ascend Phase 2 is set to redefine your perception of harmonious living.
Join us as we take you on a captivating journey through everything this extraordinary development offers – prepare to be amazed!
Let us help you find your perfect property! Click below to schedule a consultation.
Contact Builder For Latest Offers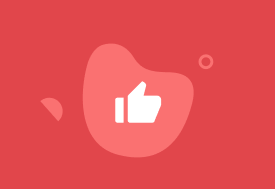 Thank You
Our Builder Representative Will Contact You Shortly
Back to Home
Introduction to Godrej Ascend Phase 2
Godrej Ascend Thane is a world-class residential project that offers its residents a host of luxurious amenities and facilities. The project is located in the heart of Thane, one of India's most cosmopolitan and vibrant cities. Godrej Ascend Kolshet provides its residents with an opportunity to live in a truly international environment where they can enjoy all the comforts and conveniences of modern living.
The project offers spacious and well-designed 1 BHK, 2 BHK and 3 BHK flats in Thane that are perfect for families as well as young professionals who are looking for a comfortable place to call home. All the apartments have modern amenities and facilities, including high-speed Internet connectivity, satellite TV channels, 24-hour security, and much more.
This under construction project in Thane is a haven for families and professionals looking for a comfortable place to call home. With its world-class amenities and facilities, it is the perfect place to live, work, and play.
Read this blog to learn about the top reasons to choose Godrej Nirvaan for an urban lifestyle:

THE TOP REASONS TO CHOOSE GODREJ NIRVAAN FOR AN URBAN LIFESTYLE
Overview of Amenities at Godrej Ascend Thane
Godrej Ascend Phase 2 is one of the best projects in Thane that provides an array of amenities, including a well-equipped gymnasium, an infinity pool, a children's play area, a clubhouse, and much more. The project also offers easy access to all the major hubs of the city, making it an ideal option for those who are looking for a peaceful and convenient lifestyle.
Leisure and Recreation Facilities
Godrej Ascend Phase 2 is a remarkable residential project that offers families and young professionals various leisure and recreation facilities. The sports complex features a basketball court, indoor badminton courts, squash courts, a gymnasium, and a jogging track.
The swimming pool is perfect for cooling off on hot summer days, and the clubhouse provides residents with a place to socialise and relax. Godrej Ascend Thane also offers its residents convenient access to various shopping and dining options.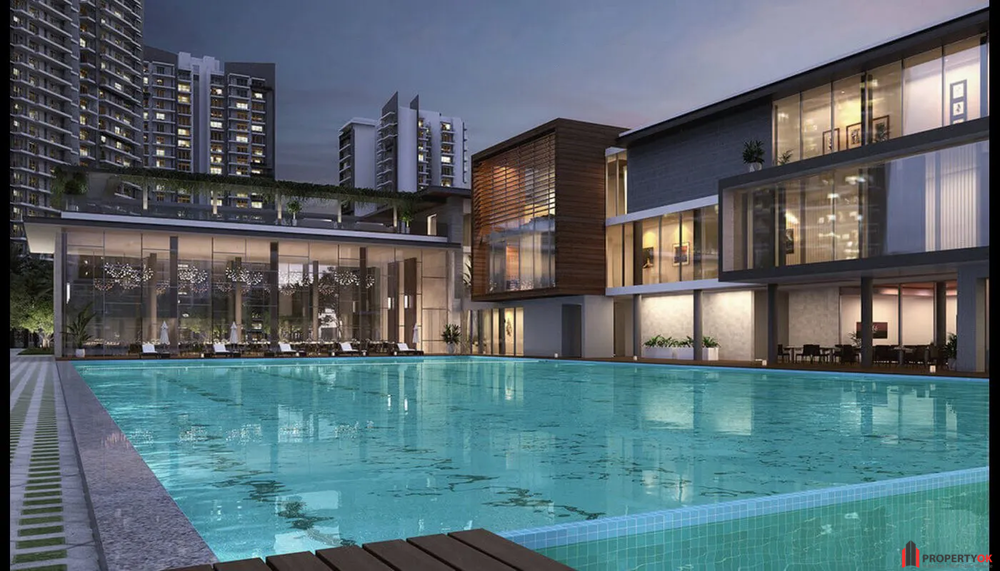 In addition to these amenities, the project provides access to several parks and gardens for residents looking to take a leisurely stroll or enjoy some peace and quiet. The development is surrounded by lush greenery and offers plenty of open spaces.
Godrej Ascend Phase 2 also offers various amenities for all age groups. Apart from the well-maintained swimming pool, there is a health club featuring modern equipment and plenty of open green spaces to relax and enjoy the outdoors. The complex has many other facilities, including a kids' play area, an in-house multi-cuisine restaurant, and a round-the-clock water supply.
Health and Safety Features
Godrej Ascend Phase 2 is a splendid project offering residents a safe and secure environment. The property is equipped with CCTV surveillance and 24/7 security, making it an ideal place for families and professionals to live in.
The property also has several health and safety features, such as a fire alarm system, an intercom system, and an emergency power supply. All these features make Godrej Ascend Kolshet an ideal place for families looking to enjoy luxurious living at its best.
Educational facilities for young children
The project is located near prominent schools and multiple international standard institutions, ensuring your child can access a world-class education. Godrej Ascend Kolshet also has an on-site daycare centre which allows working parents to rest easy knowing their little ones are being well looked after.
So if you're looking for a real estate project in Thane that can provide your family with everything they need, look no further than Godrej Ascend Phase 2!
Discover the details of the project Sky Gardens at Godrej Vihaa by reading the blog below:

SKY GARDENS AT GODREJ VIHAA: A STEP TOWARDS SUSTAINABLE LIVING
Proximity to key areas such as hospitals, schools, supermarkets, and public transportation
Godrej Ascend Phase 2 is situated in a convenient location that is close to all key areas. There are several top hospitals and educational institutes located nearby. In addition, there are plenty of supermarkets within walking distance of the property. Moreover, residents can easily access public transportation such as local buses and cabs. These features make Godrej Ascend Thane an ideal place for families looking for easy access to all necessary amenities and services.
Overall, Godrej Ascend Kolshet is a secure and luxurious residential project that offers its residents a wide range of amenities, health and safety features, and proximity to key areas. It is an ideal place for families looking for a safe and comfortable living experience.
Interior Features of Godrej Ascend Phase 2
The interior features of Godrej Ascend Phase 2 are designed to elevate your living experience. Step inside these thoughtfully crafted homes, and you will be greeted by spacious rooms that exude elegance and sophistication.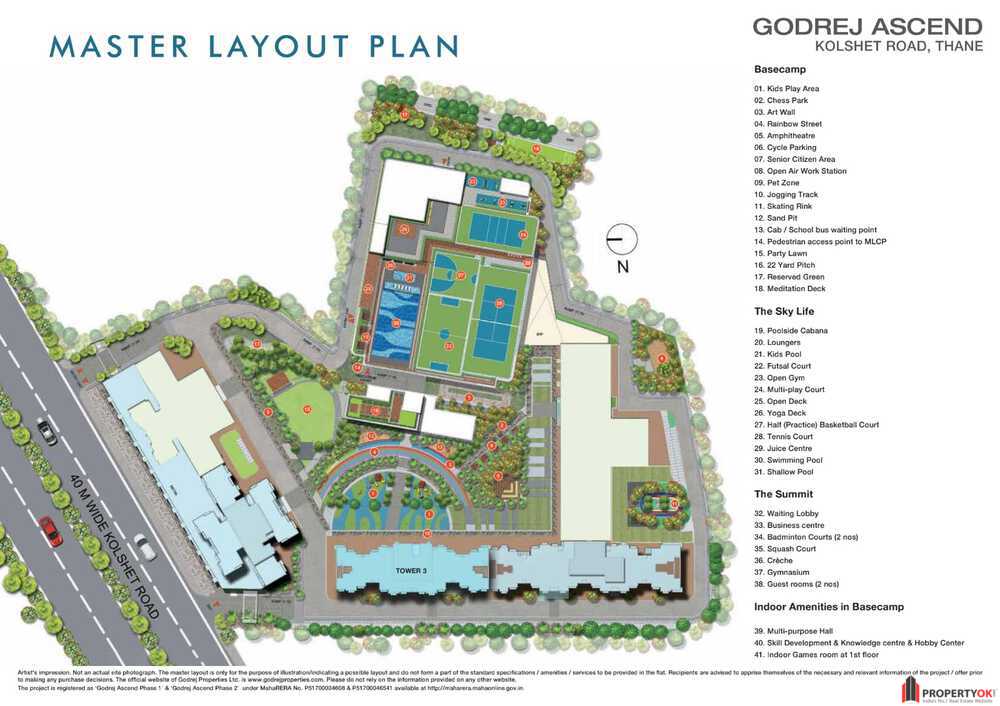 Godrej Ascend Thane Master Layout Plan
From the moment you enter, you will notice the meticulous attention to detail in every corner. The high-quality flooring beckons you to take off your shoes and sink into absolute comfort. Natural light floods through large windows, creating a warm ambience throughout the entire space. As you explore further, you'll discover an intelligent layout that maximises functionality without compromising style.
The modular kitchen boasts modern fittings, ensuring that cooking becomes a delightful experience for both amateur chefs and culinary enthusiasts alike. With ample storage options seamlessly integrated into the design, staying organised will never be a challenge.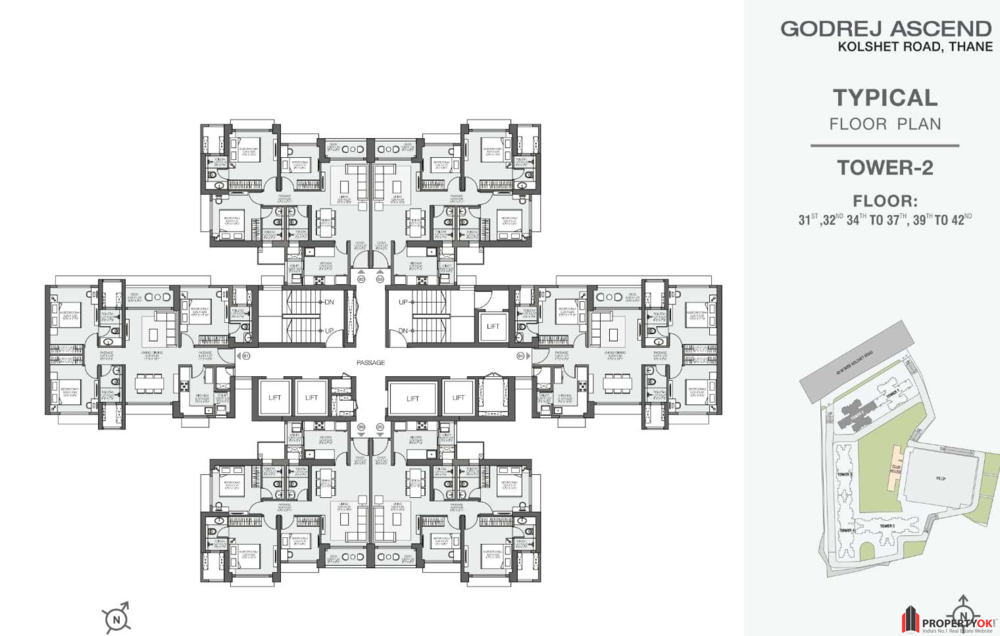 Godrej Ascend Thane Floor Plan
Each bedroom is meticulously planned to offer privacy while providing breathtaking views of the surrounding landscape or city skyline. You can embrace tranquillity in your own personal sanctuary or convert it into a productive workspace where imagination knows no bounds.
The bathrooms are impeccably finished with premium fixtures and fittings that transform daily rituals into moments of indulgence. Unwind after a long day in the lavish bathtub, or enjoy an invigorating shower surrounded by elegant tile work.
The developers of Godrej Ascend Thane genuinely understand how important it is for residents to feel at home within their four walls – spaces meticulously crafted not just as houses but as havens tailored specifically for families and professionals craving comfort.
Find out why Godrej Emerald Thane is the ideal investment option in Mumbai real estate market by reading this blog:

WHY GODREJ EMERALD THANE IS THE IDEAL INVESTMENT OPTION IN MUMBAI REAL ESTATE MARKET
Quality Assurance From Godrej Properties
When you choose a Godrej Properties development, you can be confident that you're getting a high-quality home. The developers have a dedicated team of quality assurance experts who work diligently to ensure that their properties meet or exceed the highest standards.
Godrej Ascend Kolshet is no exception. The quality assurance team has thoroughly inspected every aspect of this development, from the foundation to the finishes. These under construction projects in Thane have been designed, constructed and tested with quality in mind, from the construction materials to the design features.
The developer's commitment to quality extends beyond just providing luxurious homes. They are committed to creating comfortable and safe living environments for our customers. All their properties are equipped with state-of-the-art safety features, such as modern fire safety systems, full CCTV coverage and 24-hour security guards.
All these factors make Godrej Ascend Phase 2 one of the best projects to consider if you are planning to buy flat in Thane!
Wrap-up
Godrej Ascend Phase 2 is an excellent investment opportunity for families and professionals seeking to settle down in a convenient spot with easy accessibility. It offers secure living in the midst of lush greenery and efficient public transport, as well as proximity to schools, hospitals, malls, and other essential life amenities.
These luxurious flats come with modern facilities like integrated smart home technology and space utilisation insights that provide contemporary living standards at an affordable price tag.
With all these advantages combined, it's no wonder why Godrej Ascend Thane has become such a popular destination amongst families and professionals looking for comfortable city living with modern amenities at an affordable price tag.
In conclusion, Godrej Ascend Phase 2 is indeed a haven for those looking for comfortable city living without sacrificing their quality lifestyle choices.
Frequently Asked Questions
1. How does Godrej Ascend Phase 2 cater to the needs of real estate investors?
Godrej Ascend Thane is equipped with features that make it an ideal destination for real estate investors. From well-planned 1 BHK, 2 BHK and 3 BHK flats in Thane to super penthouse spaces – all are available at competitive pricing. The properties in Godrej Ascend Phase 2 have luxurious amenities like a swimming pool, jacuzzi, gymnasium, clubhouse, private access road and lots more.
On the other hand, professional investors will appreciate the office spaces on the top floor, which offer an amazing view of the city skyline, which can be an excellent bonus for rental investments. With so much to offer, it is no wonder why Godrej Ascend Kolshet is attracting tons of attention from real estate investors across India.
2. Could you provide some insights into the pricing options available at Godrej Ascend Phase 2?
Godrej Ascend Thane has something for everyone with its competitive pricing options. Professionals will appreciate the carefully considered pricing structure – a range of options from luxurious penthouses to budget and mid-level sub-units suiting everyone from the single professional to growing families looking to invest in real estate.
3. What sets Godrej Ascend Phase 2 apart from other residential projects regarding affordability, quality construction, and long-term value appreciation potential?
Godrej Ascend Thane offers exceptional value in terms of affordability, quality construction, and long-term value appreciation potential. This residential project presents cost-effective options for families and professionals looking for a secure investment. With its cutting-edge design and thoughtful amenities, it ensures the perfect home-life balance. Moreover, the surrounding infrastructure and facilities make it an attractive offering among developers and buyers. Its proximity to hospitals, schools, offices, shopping centres, etc., makes it an ideal choice for those looking to invest in second homes or larger investments. Above all, its price appreciation potential will ensure that investors reap good returns on their investments in the future.